Every year 3D Printing revolutionizes the world more and more, enabling makers to have the option of creating custom designs, prototypes, and even end-pieces. The potential of this technology is still growing and evolving, revolutionizing the way industries develop their ideas and manufacture. 3D Printing has extended its reach into the confectionary world providing us with the first gummy candy 3D printer, The Magic Candy Factory.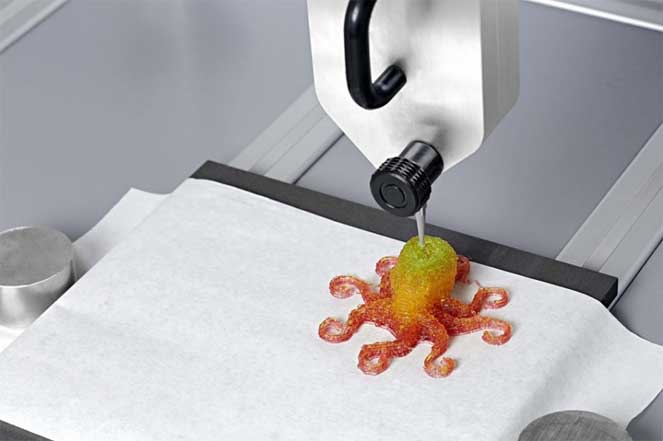 The Magic Candy Factory is a revolutionary new 3D Printer that allows the user to design or select a design to print in select gummy flavors in 5 minutes or less! Now for those who aren't familiar with 3D Printing, print times on average tend to be 3-5 times longer than that. The gummy 3D printer brings a unique twist to an old industry, inspiring shoppers to make unique tasty creations right before their very own eyes.
This 3D Printer will give any user the ability to be their very own "Willy Wonka" and make cool food creations of the gummy kind. The Magic Candy Factory provides an assortment of different flavors such as Tasty Tropical Blue Zummie, Luscious Lemon Zummie, Ripe Rasberry Zummie, and much more! In addition to the large gummy selection, The Magic Candy Factory also offers edible sprays for a unique candy finish such as Magic Glitter Dust, Magic Sour Dust, Magic Fizzy Dust, and much more. The company has made sure to only use high-quality ingredients that are vegan-friendly, allergen free, and suitable for Halal, Kosher, and Hindu following customers.
The gummy candy 3D Printer is currently only available for businesses and to be used in storefronts and parties. The company has stated that a consumer version will be made available by next year, which is good news for people looking to buy a novelty candy factory for their own home. The future of food and confectionaries are slowly, but surely becoming 3D Printable. If you have any opinions, experiences, or comments about this article, make sure to share them on our blog or Facebook so we know what you think of this new 3D printer. Thank you for reading!