From the beginning, 3D printing was only accessible to a handful of fields and professionals, but with recent breakthroughs in modern medicine and bioengineering the application of 3D printing has expanded to the biomedical field, leading to the creation of Invivo. Rokit Invivo was developed for the purpose of additive manufacturing for In-situ biofabrication, allowing doctors to 3D print a scaffold that can be implanted into a patient, speeding up recovery time. Other benefits of 3D bioprinting are the ability to print tissue that can be used for testing new medicines.
Rokit is a South Korean 3D printer company that is lead by Seok Hwan You and recently received a three million dollar grant from South Korea's own government in order to pursue 3D bioprinting. Rokit is no ordinary company, in the past the company has teamed with many different research groups and universities such as Korea's Institute of Machinery & Materials, the Seoul National University Hospital, Korea Advanced Institute of Science and Technology, and Hanyang University research project for developing a method to bioprint artificial skin for implant. The research conducted by Rokit from collaborating with these special research groups and institutions allowed the company to bring affordable 3D bioprinters to market, Rokit Invivo.
Rokit Invivo is a world-class biofabricator for doctors, professionals, and researchers. Invivo provides users with a sterile environment when printing; it does this with the help of a UV light, HEPA filter, and a closed design. The printer has a wide variety of materials that can be used ranging from synthetic polymers like PCL (PolyCaproLactone), PLGA (Poly Lactic-co-Glycolic Acid), PLLA (Poly L-lactic Acid), and biomaterials such as bioinks (Hydrogel with cell mixtures), powder mixtures (Hydroxy Apatite/ Chitosan), and hydrogels (Collagen/Gelatin/Fibrin/Hyaluronic Acid/ Alginate) just to name a few. The printer has several design applications starting with extruder-dispenser dual cross print, multi material 3D positioning, scaffold print with cells, 3D core-sheath structure printing, various pore size and porosity control, providing users with the accuracy and control required when creating implants for patients.
The printer comes in 2 versions STD(Standart), and PRE(Premium). STD is the standard version and comes with a UV LED and an option for either polymer extruder and bio dispenser extruder or dual biodispenser extruders and two UV LEDS. The UPG comes with the same options as the STD but with a few additional features, it has a heating and cooling option for the extruders and build plate. Lastly, the PRE comes with everything that the STD come with but with one key difference, it has a pneumatic system for precision control extrusion that achieves resolution of 80-200 microns. Also, Rokit has incorporated a Wi-Fi camera inside of the build chamber so users can monitor their print remotely.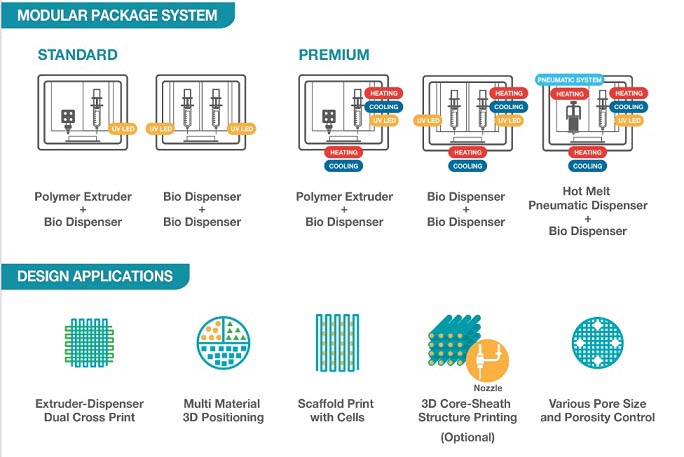 Rokit Invivo's Specifications
| | |
| --- | --- |
| Printing System | Polymer Wire Extruder + Bio Dispenser + Super Hot Melt Extruder |
| Hardware | On-Board Computer with LCD Touch Screen with Android OS |
| Resolution | Extruder 0.2mm/Dispenser 0.05mm |
| Hepa Filter | H14(99.995 ≤ 0.3µm D.O.P.) |
| UV Lamp | Sterilizing UV Lamp(15W/254nm) |
| UV LED | 365nm |
| Extruder | Detachable Nozzle/Tube System |
| Bio Dispenser | Screw Type of Bio Dispenser to avoid Contamination 10ml Syringe |
| Bio Dispenser Function | Cooling Heating System(-10°C ~ 80°C) |
| Bed Plate | Cooling Heating System(-10°C ~ 80°C) |
| Nozzle Size | Extruder: 0.2mm, 0.4mm; Bio Dispenser: 0.05~0.8mm; Pneumatic Dispenser: 0.1~0.5mm |
| Pneumatic Dispenser | High Temperature Melting System ~350°C |
| Build Volume | 100mm x 100mm x 90mm |
| Printing Speed | 5~20mm/sec |
The company is working on improving the technology to allow for 3D bioprinters that are capable of printing patient specific skin for implant, which will change millions of lives for the better. In the near future, hospitals wont have to put patients on long waiting lists thanks to personalized 3D biofabrication. With patient specific 3D bioprinting the post-op healing time will be significantly reduced and chances of organ rejection will be eliminated since the 3D printed organs will be made using the patient's own cells. With Rokit's 3D bioprinters the future of medicine is here.