SolveLight Robotics is proud to announce a distribution partnership with Dexta Robotics. Dexta Robotics is building the next generation of peripheral devices for immersive technologies such as virtual reality, augmented reality, and mixed reality. Dexmo DK1(Developer Kit) is Dexta Robotics newest version of their exoskeleton gloves.
The Dexmo DK1 is an exoskeleton gloves that provides the user with motion capturing (mocap) and immersive force feedback. What that means is users can not only translate their movements from the real world to the digital world in order to manipulate objects in virtual or mixed reality, but also get a sense of physical presence in the virtual world too. Dexmo provides users with realistic force feedback right to their fingertips via the built-in motors to simulate a objects shape and stiffness, blending the real world with the virtual one. Dexmo DK1 will provide users with a unique and intuitive solution that will disrupt how businesses design, test, and train. Imagine being able to design and test a tool in the virtual world then submit it to the rest of the company to help train employees via simulation, getting them ready for real world application. The same concept can be applied to a myriad of different fields such as medicine, education, and robotics.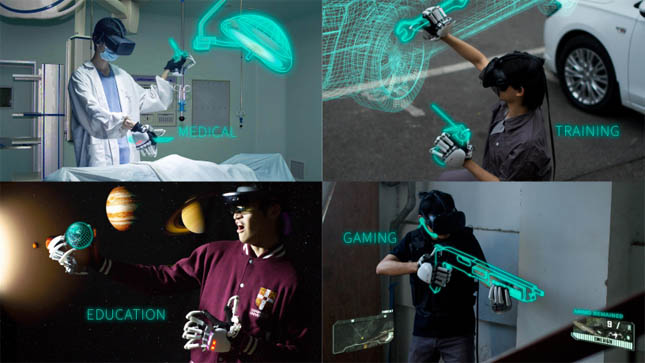 "They've got big dreams, though, going way beyond next-gen gaming. Dexmo can also be used to control RC vehicles, smart lighting, third-party applications like Fruity Loops, and machine-assisted sign language interpretation. Heck, they even want robotics firms using it in bomb-disarming robots for doing things like cutting the red green wire." – Geek.com
Dexta Robotics Dexmo DK1 can be used as mixed reality gloves or virtual reality gloves, accommodating a multitude of different systems such as Microsoft Hololens, as well as HTC Vive, and Oculus VR headsets. The beauty of this all is how Dexta Robotics is helping shape the future of how we learn, build, and train. Another added benefit is the gaming application; Dexmo DK1 provides gamers with a device that was made to make virtual objects feel like real world objects; the possibilities are endless!  The wide range of applications will attract users from different markets, disrupting traditional methods and replacing it with the future, which are force feedback exoskeleton gloves.
How is all this possible you ask? Well the technology behind Dexmo DK1 is a combination of several key components. The first is the fingertip cap, which slips over the user's fingertip for comfort and stability. The second component is the motors with motion capture control, used for capturing user's finger bending as well as providing variable force feedback and multiple stiffness layers simulation. The third component is the thumb motion-capturing module, which captures the thumbs movement via the glove's 3 degrees of freedom (DOF) for rotation, splitting, and bending. Lastly, the fourth component is the motion-capturing module, used for capturing finger-splitting motions.
Dextra Robotics is bringing the virtual world closer to the real world, significantly reducing learning curves, accelerating innovation, and changing the status quo. The Dexmo DK1 provides users with a sophisticated tool that allows the user to not only interact with the virtual world, but feel it too!