Description
XYZrobot Bolide Advanced Humanoid Robot
Possibilities are endless with the XYZrobot Bolide Advanced Humanoid Robot. Bolide\\'s built-in accelerometers and IR sensor provide postural stability and alert Bolide to objects in its path. The XYZrobots are for anyone who has an interest in ROBOTICS, and in aquiring a necessary skill in this field. Equipped with two RGB LED arrays for displaying information, a buzzer for audible feedback, and a Bluetooth module for direct communication, these robots excel at engaging its users and interacting with other devices. With a staggering 18 Smart Servos, offering 18 degrees of freedom, all accessible with an intuitive API, users can easily control or adjust the robot's movements however they want and save their custom made sequences for future use.
Features
18 Degrees of Freedom to mimic precise human movements.
Smart Servos transmit data on temperature, speed, position and include four colour LEDs so you can quickly and easily monitor servo status (max. torque 25kg-cm).
Gyroscopic Sensors. Accelerometer measures acceleration or changes in speed and an IR sensor for falling down detection and distance measurement allow Bolide to be aware of its centre of balance as well as its surroundings. Used as an assistant in the stability of the robot.
The Infrared Sensor is designed for proximity detection and this type of sensor is often used in detecting obstacles.
The AI Motor can memorise temperature and position and allows users to move and position the robot in different poses. Information is then sent back to XYZrobot Editor, enabling everyone to easily control and make the robot move however they like.
The Mechanical System can determine the rotation and robot orientation on several axes giving users the possibility to measure the angles and design robots with proper navigation systems.
Arduino. Use Arduino 1.0.6 and the XYZrobot Editor to take full control of your Bolide Y-01's movements and actions.
Android & iOS. Control your Bolide with a remote control and the XYZrobot for Android and Apple smartphone and tablet devices.
Educational Outcomes and Benefits
Learn Architecture through Reconfiguration. Use the same MCU board and Servos with a few extra components to create a completely different robot!
Train Patience. Build a Bolide from scratch for an added sense of accomplishment!
Assembly develops Logical Thinking. Learn logical thinking skills, left and right robot motion, and how sensors work.
Programming Study. Program editing teaches software design. Intuitive UI design makes editing easier. Bolide can also memorise movements for faster editing.
Creativity and Design Aesthetics. 3D Print creative designs and build your own unique robot with your creative ideas to showcase your design talent. (You can also download .STL files from the XYZ gallery).
Intuitive UI design makes editing more fun. Scratch provides more user friendly learning environment.
Tactile and Sensory Development. Foster hands-on learning in the classroom.
Motivation and Cooperation. Provide the chance for students to construct a robot together, work in a group and use problem solving skills to create a unique design as well as a functioning robot. Open their eyes to alternate ways of thinking and creating.
Robots encourage hands-on activities and provide raw materials to work with. Not only do they encourage creativity and abstract thinking, they also give students opportunities to experiment with team work and to learn about cooperation during this process. Bolide can expand their comfort zone.
3D Printable Designs and Parts
Showcase your design talent by creating a unique Bolide Robot! Download *.STL files from the cloud or design your own 3D printable parts.
Reconfigure Your Robot to Learn Architecture
Modular construction design includes an MCU and Smart Servos. Add on simple components to build a wide variety of different robots.
Use Editor to program Bolide's Movements
Teach Bolide Y-01 an endless number of tasks and its solutions.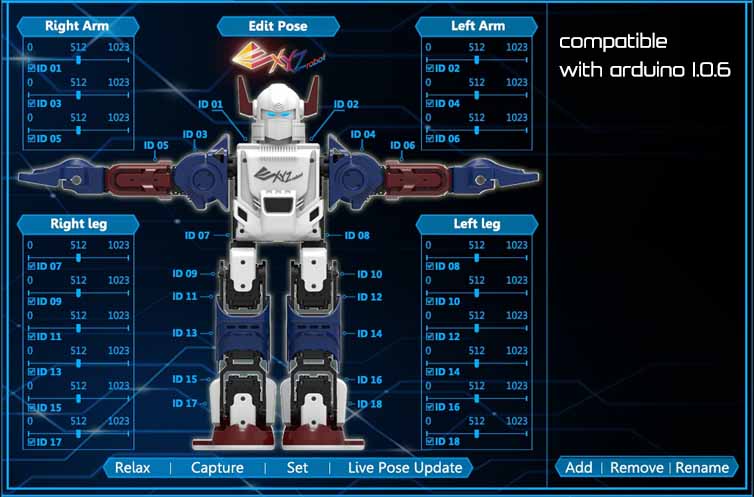 Methods of Operation
Four programmable buttons control movements and audio file (when MicroSD card is enabled).
Bluetooth 4.0 LTE remote control.
XYZrobot app for your smartphone or tablet.
Smart Servos
Torque: 25kg-cm at 12V. Bolide Y-01's Smart Servos transmit temperature, speed, and position data, and each servo includes four color LEDs displaying the servo status.