Description
ROBOTIS BIOLOID GP Humanoid Robot Kit
The BIOLOID GP Robot is a top notch humanoid optimized for various robot competitions. With high performance actuator AX-18A and ultra lighted high strength of aluminum frames, it will complete various mission given at competitions. Enjoy various robot sports with the Boiloid armed with versatile performances and powerful mobility.
Features
​Boiloid GP kit, the strongest, high performance of robot for competition participants: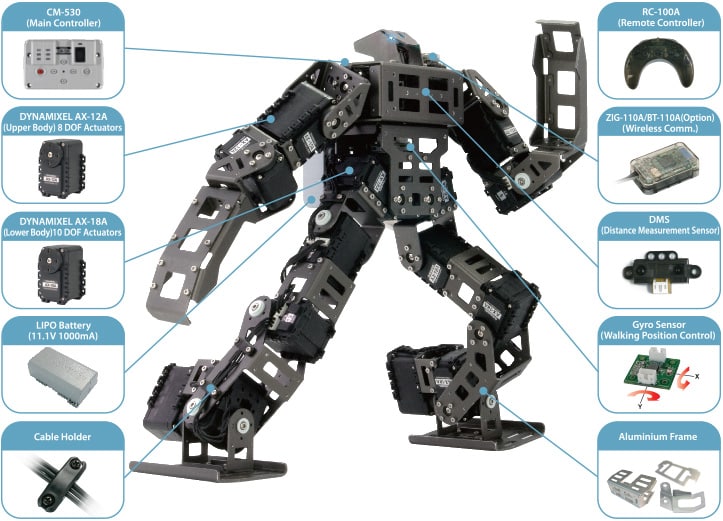 Top-notch humanoid armed with high performance actuator DYNAMIXEL AX-18A
Ultra-light weight and high strength of aluminum frames
Powerful mobility including a direction switch while moving and fast walking
Basic humanoid battle and soccer motions are provided
Can adjust posture while walking with gyro sensor
Includes a gripper set for mission completion
Includes optional frames for waist twisting
Includes wireless remote controller (IR-default, Zigbee/Bluetooth-optional)
Includes a Roboplus, an upgraded powerful S/W programming tool
Digital packet communication and simple daisy chain connection
CM-530 main controller for Dynamixel and external sensors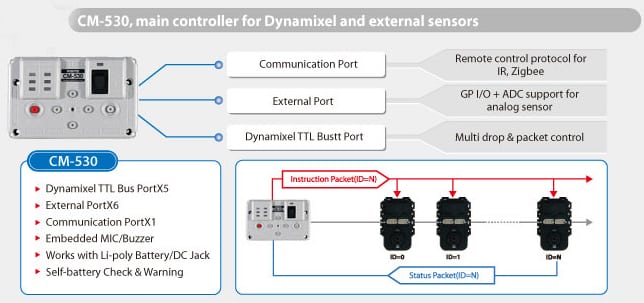 Dynamixel TTL bus port X5
External Port X5
Communication Port X1
Embedded MIC/Buzzer
Works with Li-poly battery/DC jack
Self-battery check and warning
What's Included
CM-530 (Main Controller-ARM Cortex(32bit) X 1
AX-12A (Robot Exclusive Actuator, Dynamixel) X 8
AX-18A (Robot Exclusive Actuator, Dynamixel) X 10
Gyro Sensor (2 Axis)  X 1
DMS X 1
RC-100A (Remote Controller) X 1
Rechargeable Battery (11V, Li-Po, 1000mA/PCM) X 1
Balance Battery Charger X 1
Humanoid Aluminum frame full set
Gripper frame set
Quick start (16 DOF humanoid assembly manual included)
Wrench, Screw Driver, Wrench Bolt, Cable Holder
RobotPlus Software CD (WindowsXP/2000/Vista 32bit)
Aluminum Trunk
Dimensions
​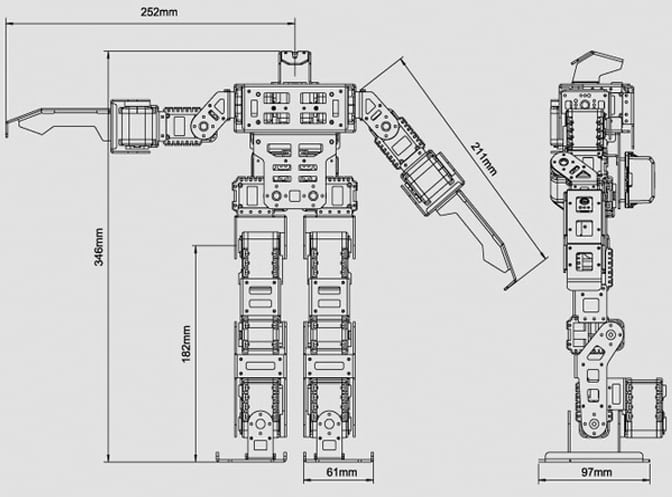 NOTE: Product lead time 1-4 weeks. Please contact SolveLIght Robotics for more info.