Description
STEADIDRONE MAVRIK Professional Unmanned Aerial System
The MAVRIK Professional Unmanned Aerial System offers the best in medium lift commercial sUAS systems, compact, reliable and ready for any job. Its unique front mounted gimbal, with the ability to point directly upwards, and all the way down as well, along with the 'rapid deploy' design and other advanced features make the MAVRIK an ideal everyday working system. The MAVRIK folds down into an ultra compact size, smaller than any other system of comparable size, it's the only option for serious aerial professionals and industrial applications. The SteadiDrone MAVRIK is an 'open' platform which is not payload, camera, sensor or even flight controller specific, its the perfect system for fast, effective aerial operations.
Open Payload Bay
All SteadiDrone aircraft are designed as \'open\' aerial platforms and are able to fly a huge variety of payloads, cameras and sensors. Turn-key, ready-to-fly solutions for different applications, our standard \'open\' X4 and X8 systems.
The MAVRIK is available in four configurations
The standard X4 and X8(see options) with open front mounted brushless gimbal with the freedom to mount a wide variety of cameras and payload.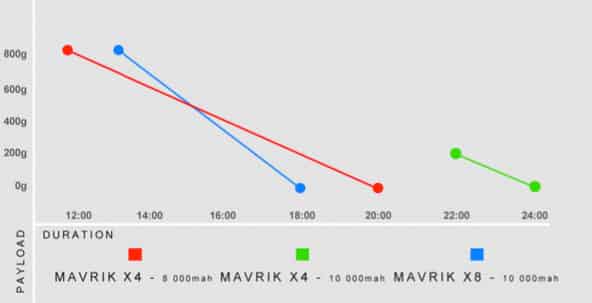 SteadiDrone MAVRIK X4 / X8
Flight Controller GPS Data Telemetry Integrated Front Facing Brushless Gimbal SteadiDrone MAVRIK Case
Radio Controller System
2 (X4) / 4 (X8) x Prop Pair 14×4.8" Carbon Battery Charger
2 x 8 000mAh 4S 40C Batteries (X4)
2 x 10 000mAh 4S 40C Batteries (X8) Mavrik Spares Kit
2.5mm Allen Key
Spanner 5.5/10mm
Logbook
Lanyard Sticker
Quick Start Guide USB Drive
*(OPTION) The MAVRIK can be equiped with MICASENSE REDEDGE MULTISPECTRAL CAMERA for industrial imaging: RedEdgeTM is much more than just a camera, sharing more design features with Earth imaging satellites than it does with standard consumer cameras. Industrial imaging sensors provide high dynamic range in varying lighting conditions while removing artifacts commonly seen in drone video and imagery. Coupled with MicaSense ATLAS, RedEdgeTM provides a complete imaging, processing, and analysis system ready to go, fully integrated into the SteadiDrone VADER. With a SteadiDrone designed quick-release 2-axis stabilized gimbal for the RedEdge, ensuring the best possible angle at all times, we prove our clients with the highest quality in both platform and data captured.
Contents
SteadiDrone MAVRIK X4 / X8
Flight Controller GPS Data Telemetry
Integrated Front Facing Brushless Gimbal
SteadiDrone MAVRIK Case
Radio Controller System
2 x Prop Pair 14×4.8" Carbon (X4) ; 4 x Prop Pair 14×4.8" Carbon (X8)
Battery Charger
2 x 8 000mAh 4S 40C Batteries (X4)
2 x 10 000mAh 4S 40C Batteries (X8)
2.5mm Allen Key
Spanner 5.5/10mm
Logbook
Lanyard Sticker
Quick Start Guide USB Drive
MAVRIK Extras Kit