Description
DJI Phantom 3 Standard Quadcopter
The DJI Phantom 3 Standard Quadcopter is a Ready-To-Fly system that comes prepackaged with the basics to get your started right the way. Phantom 3 Standart comes with a transmitter(ground station/radio controller), flight battery and charger, two sets of props, a mobile device clamp, 8GB memory card, and more. Phantom 3 Standart comes with 2.7K ("UHD") aerial video acquisition. Its dedicated camera is seats on the 3-axis motorized gimbal that stabilizes the footage and enables manual tilting from a dial on the controller. The control signal operates on 5.8 GHz, plus there is a 2.4 GHz Wi-Fi downlink for live 720p video monitoring and app-based control using DJI\'s free GO app. Thanks to a Wi-Fi range extender, the Wi-Fi boasts a range of 3280\' line-of-sight. Phantom 3 Standard is GPS equipped, and supports the assisted flying features, such as automatic return to home(flight starting point). More efficient motors allows flight time up to 25 minutes. Phantom 3 Standard comes with water resistant lightweight backpack.
NOTE: Be sure to follow all pre-flight calibrations steps to ensure correct operation of the GPS prior to flight! ***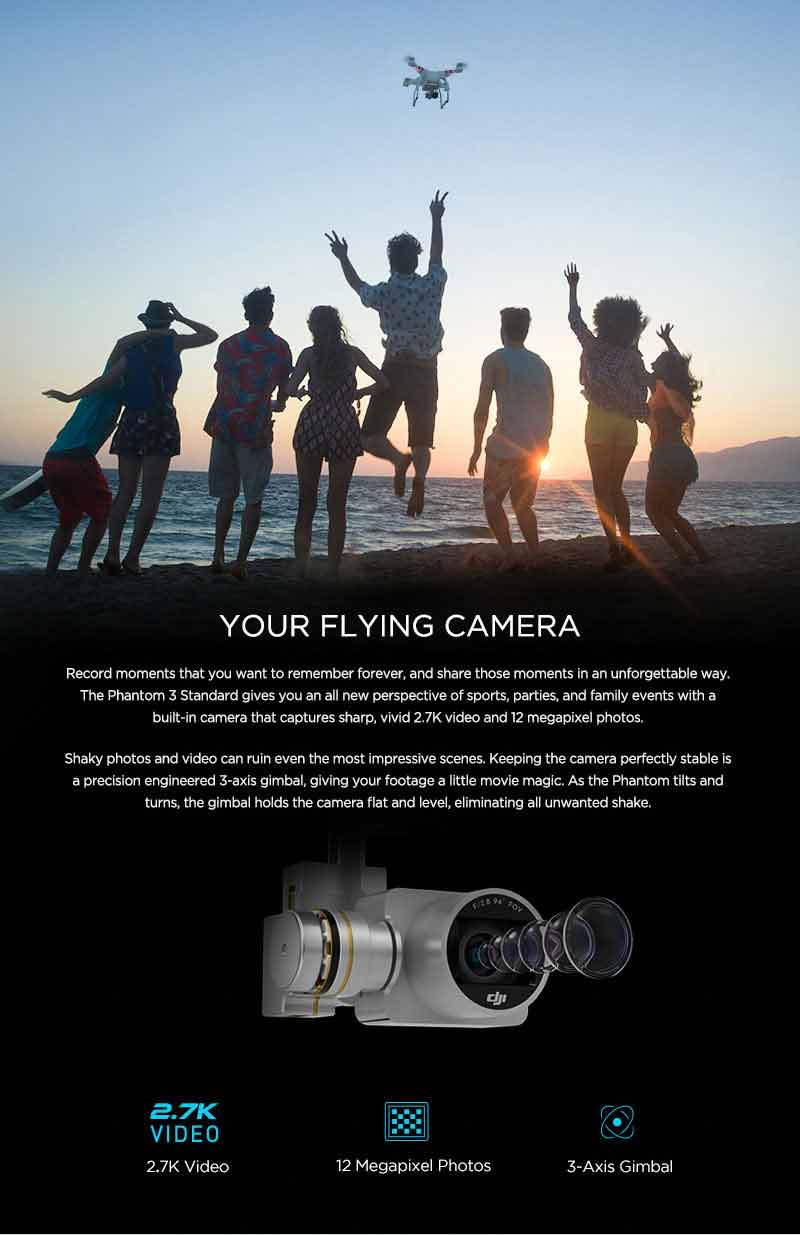 FEATURES
Easy to Fly: An intelligent flight system automatically keeps your Phantom 3 Standard in the air and under your control.
Amazing Images: Take stunning 2.7K HD videos and 12 Megapixel photos with the integrated aerial camera.
Stable Footage: DJI's advanced gimbal stabilization technology gives you movie-quality results no matter how you fly.
Enjoy the View: A live video feed gives you a 720p HD real-time view of what your camera sees right on your mobile device.
Peace of Mind: Fly up to 25 minutes on a single charge, and the Intelligent Flight Battery will automatically remind you when power is running low.
DISCOVER FLIGHT
Safe, easy, and funt to fly, the Phantom 3 Standard makes it possible for everyone to reach for the sky. With an intuitive flight system, built-in camera, live HD view, and more, the Phantom 3 Standard gives you everything you need to fly.
INTUITIVE, POWERFUL FLIGHT
Enjoy the thrill of flight as you speed through the air. Powerful, responsive motors send your Phantom soaring exactly on the path you want. Stop in place, speed up, or fly higher in an instant. Curved DJI electromagnets are used to spin the motors at high, controllable speeds – all by using magnetic force, without any physical contact, to increase durability. Advances in efficiency and reliability push the limits of current technology and give you longer flights.
AUTOMATIC FLIGHT ASSISTANT
Fly with absolute freedom and confidence, knowing your Phantom 3 Standard will return to you at the press of a button. Built-in GPS records your Phantom's takeoff point and remembers it as you fly. Then at your command, or if the control signal is ever lost, your Phantom comes back to you instantly. Your Phantom 3 Standard stays stable and under your control at all times during flight. After takeoff, it automatically hovers in place, waiting for your command. It then effortlessly changes altitude or direction at the flick of a finger. When you want it to stop, it again pauses and hovers, waiting for your next instruction.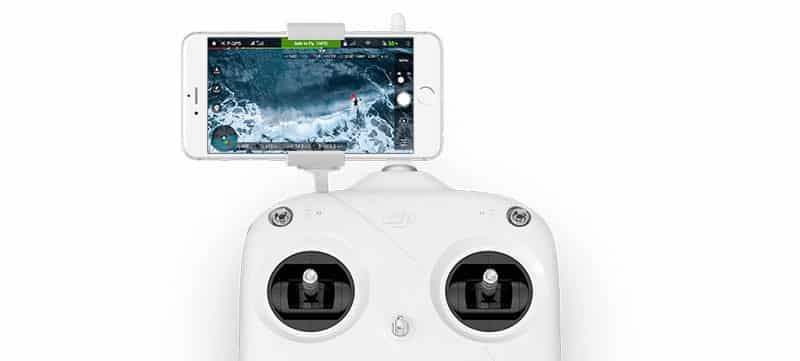 AUTO-HOVER
When you stop telling it to move, the Phantom 3 Standard hovers perfectly in place, holding both position and altitude. It waits for you to give it instructions. This means all you need to think about is where you want to fly.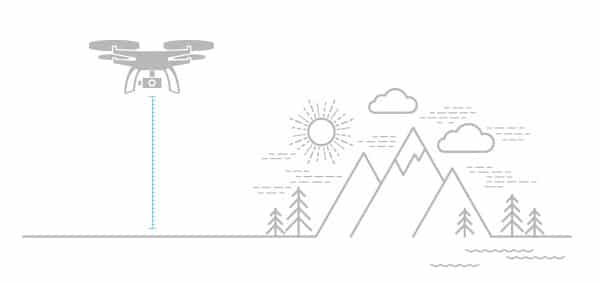 SAFE FLIGHT LIMITS
Set height and distance limits to keep all flights within a safe area. The Phantom 3 Standard will automatically stop and stay inside of your chosen limits as you fly.
LIVE GPS
Throughout each flight, your Phantom 3 Standard sends its position to a live GPS map on your mobile device. Use this map to see right where it is, know which direction it is facing, and guide it back to you in an instant. Because the Phantom knows where it is and where you are, it can calculate how much longer it can continue flying. It will send you a reminder to land when the battery runs low, and it can automatically come home and land when needed.
MORE FLYING, MORE FUN
Fly for up to 25 minutes on a single charge. The patented DJI Intelligent Flight Battery continuously tells you exactly how long you can continue flying, based on how far and
at what altitude you are, and it alerts you when it\'s time to head back. This information is streamed live to the GO app on your mobile device. Recharging is quick and easy, and bright LED indicators tell you current status and power level. A protective plastic housing helps prevent damage and contains intelligent sensors that make your battery worry-free while extending the life of your battery.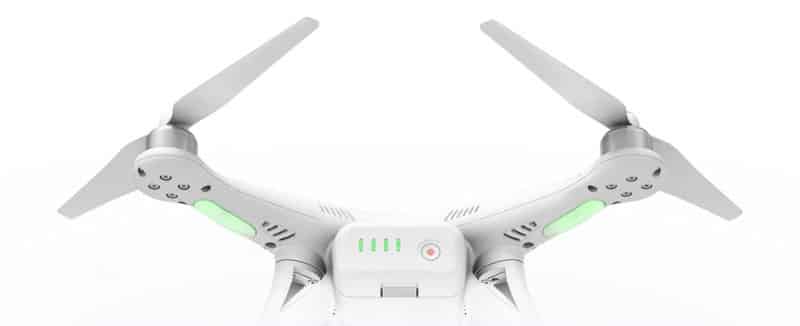 PLAN YOUR FLIGHT
GPS integration enables enhanced stability and a provides a number of assisted flying and full autopilot features, such as return to home, Intelligent Orientation Control (IOC), and Point of Interest (POI) lock.
INTEGRATED 3-AXIS GIMBAL WITH 2.7K CAMERA
The gimbal provides stability by counteracting unwanted motion such as wind buffeting or vibration and also keeps the horizon level even as the quadcopter banks. A control dial on the transmitter (ground station) allow you to manually tilt the camera. The camera features a 94° angle-of-view lens, which is a narrower angle than a fisheye for less distortion while still being wide enough to enable capturing establishing shots. The lens features an f/2.8 aperture and is comprised of 9 elements, including an aspherical element.