Description
PowerVision PowerEye Professional Drone
With a gimbal-stabilized Micro Four Thirds Sensor, the PowerEye Drone is designed with the photographer and videography in mind. It features a Panasonic Lumix G 14mm f/2.5 ASPH lens and will work with an assortment of separately available Olympus lenses, including their 14 to 42mm zoom lens. In video mode, the camera captures either DCI or UHD 4K, and it also takes still photos up to 16MP. There are burst and time-lapse modes as well as single shot. Video and stills are recorded to a separately available microSD card.
Micro Four Thirds Camera
With a Micro Four Thirds camera and interchangeable lenses, the PowerEye uses a simple to use rotational gimbal equilibrium system to ensure your pictures and video are captured in perfect balance. Capture stills and video in DCI or UHD 4K resolution using either the included 14mm lens or a variety of separately available lens options, including a 14 to 42mm zoom lens.
Up to 29 Minutes Flying Time
Thanks to a 99.9Wh battery, the PowerEye can stay aloft for up to 29 minutes, meaning less down time and a more productive shooting day.
PowerModes Intelligent Flight Modes
PowerModes are intelligent flight modes that leave most of the piloting to the computer. This enables the operator focus on what\'s most important: getting a great shot.

Up to 3.1 Mile Range
Thanks to an included base station unit providing amplification, the control range and HD video downlink both work at a range of up to 3.1 miles (depending on conditions). A live feed from the camera can be viewed via a compatible mobile device.
FPV Camera and Object Detection
The PowerEye features a First-Person-View camera and object detection on the front of the aircraft, letting the pilot execute precision maneuvering while feeling confident of their surroundings.
Indoor Flight
Vision positioning and sonar enable to the PowerEye to be flown indoors where a GPS signal is unavailable.
Folding Design
While in the air, the landing gear rise, ensuring a clear field of vision, and it is easily detachable on the ground. The rotor arms also fold down, creating a transportable form factor and letting you take your PowerEye to nearly any location.
33 Feet Obstacle detection
If an obstacle is within 33 ft., the sensor will trigger the alarm
Mounted 4K aerial camera with replaceable lens
Unique replaceable lens design, compatible with a variety of micro 4/3 standard lenses
Mount 3x zoom lens
Supports 3x zoom lens mode, compatible with 14-42mm lenses
Compatible with Multiple Micro 4/3 variable Lenses for 4K HD Camera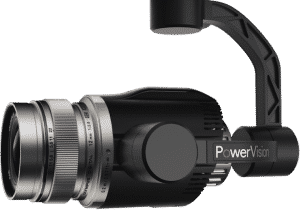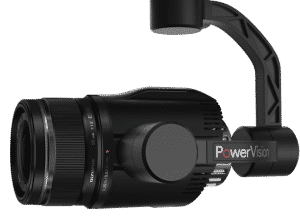 Mounted Termal/Optical camera with real time switching(OPTIONAL – COMING SOON)***
Suitable for industry users in complex environments such as inspection work. Easily identifies temperature variances and moving objects in the night time.