Description
 Phantom 3 Professional Quadcopter
The Phantom 3 Professional Quadcopter Bundle is a Ready-To-Fly system, and it can get you in the air right out of the box. Phantom 3 Professional bundle comes with flight battery, charger, and pre-bound handheld controller(radio transmitter), and 16GB microSD card among them. A complete 4K camera and 3-axis gimbal system come integrated with the Phantom 3 Professional edition quadcopter from DJI. In addition to video, the camera is capable shooting up to 12MP still photos using JPEG or non-proprietary DNG RAW formats. The 3-Axis gimbal give you pan and tilt control for the camera, and keep the horizon line level even as the aircraft banks. Different gimbal settings allow the camera to lock onto a fixed subject, be moved manually using transmitter rotaries or the app, or to simply provide camera stabilization.
NOTE: Number of important compass and GPS calibration steps must be done prior to flight, to ensure that the flight control computer operates correctly.  Please refer to the manual or Quick Start Guide before your first flight.
FEATURES
Included 4K Video / 12 Megapixel Photo Camera
Integrated 3-Axis Stabilization Gimbal
Easy to Fly, Intelligent Flight System
Live HD View
Dedicated Remote Controller
Powerful Mobile App w/ Auto Video Editor
Vision Positioning for Indoor Flight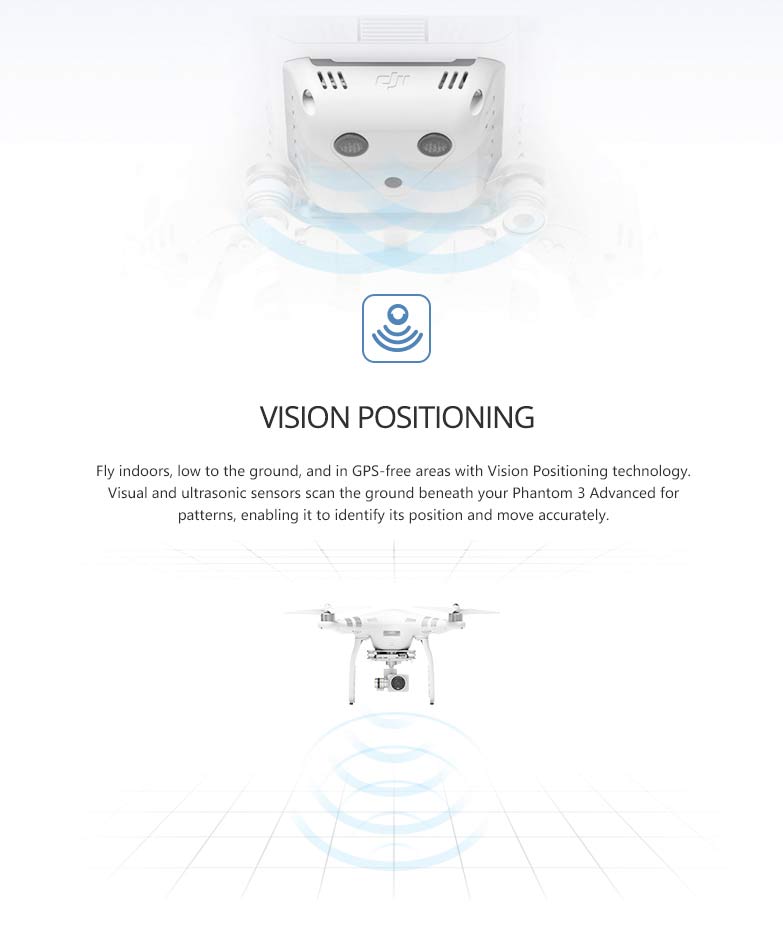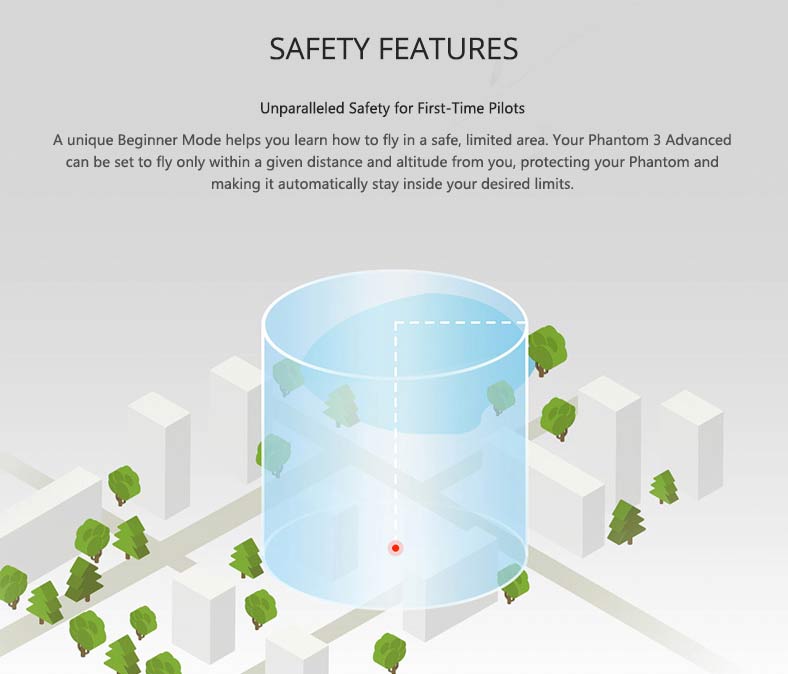 EASY TO FLY
Your Phantom 3 Professional Quadcopter fits into your life and makes flying remarkably intuitive and easy. From takeoff to landing, it\'s completely under your control, responding to your commands while automatically handling the most complex aspects of safe, stable flight.
GPS-ASSISTED HOVER
Never lose track of your Phantom 3. GPS and GLONASS combine to make the Phantom 3 completely aware of its location and relation to you. It hovers more precisely, moves more accurately, and locks onto satellites faster. With the new availability of GLONASS, a minimum of 36 satellites are available to you around the world at any time. Through the DJI GO app, you can track its location on a live map, and record your takeoff point so you can bring it back to you with the tap of a finger.
VISION POSITIONING SYSTEM
Your Phantom 3 Professional Quadcopter literally helps you fly. It processes information from every sensor and completes complex  calculations in real time, giving you a worry-free flight experience.
AUTOMATIC FLIGHT LOGS
Your Phantom 3 Professional Quadcopter automatically logs and remembers the details of every flight you take. Complete flight route, flight time, flight distance, flight location, and cached versions of any photos and videos you took during your flight are at your fingertips for future reference. At the same time, an advanced flight recorder constantly records data from all of your Phantom 3's internal mechanisms, which can be easily shared with the DJI support team if you ever have any questions or issues.
INTELLIGENT BATTERY
Higher voltage, more energy, and greater power combine to give you a vastly improved flight experience. This upgraded Intelligent Flight Battery has built-in sensors and bright LEDs that let you know the status and remaining power of your battery in real time. Your Phantom 3 continuously calculates its current distance from you and the amount of power needed to return, so you always know how long you can continue flying and when it is time to recharge.
UNMATCHED PROPULSION
Each motor has the power and precision needed to give you the best flight experience possible. Brushless motors work with lightning-fast ESCs to make your Phantom 3 Professional Quadcopter fast, agile, and responsive. These powerful motors give you the ability to speed up, quickly increase or decrease altitude, and stop immediately. DJI's powerful air braking mechanisms stop your Phantom 3 instantly , making it hover in place as soon as you release the control sticks. Aerodynamic self-tightening propellers boost thrust and stay firmly in place no matter how you fly.
INTELLIGENT, EASY TO FLY SYSTEM
Your Phantom 3 Professional Quadcopter literally helps you fly. It processes information from every sensor and completes complex  calculations in real time, giving you a worry-free flight experience.
Follows your commands instantly.
Orders your Phantom 3 to stop and hover in place when you release the control sticks.
Allows customized control settings to fit your preferences.
Enables your Phantom 3 to return to you whenever needed.

MAIN CONTROLLER
Processing and analyzing flight data in real time takes serious power. The Main Controller is the control center of your Phantom 3 Professional Quadcopter. It collects data from the entire system, including motor speed, GPS location, your command inputs, and data from automatic sensors, and analyzes it all to tell your Phantom 3 exactly how to behave at any given moment.
RETURN TO HOME
Bringing your Phantom 3 Professional Quadcopter back to you is as simple as pressing a button on the remote or within the Pilot app. Your system automatically remembers the point at which it took off, and returns and lands safely at this point when you command it to Return to Home.
SDK DEVELOPMENT
Have a new idea that requires a view from the sky? Develop your own app by using the DJI Software Development Kit. The Phantom 3 platform is fully open and allows you to program apps.
REMOTE CONTROLLER
With sensitive control sticks, dedicated buttons, and an over 3.1 mile (5km)* range, your customizable Phantom 3 remote controller gives you a completely new way to fly and interact with your Phantom. Ergonomically built to fit perfectly in your hands, your remote gives you the confidence to fly the way you want.
EASY, INTUITIVE CONTROLS
Controlling both your Phantom 3's flight path and the included camera feels simple and natural. This advanced remote has been built from the ground up specifically for aerial photography: dedicated buttons let you take photos and video, tilt the camera, direct where your Phantom 3 Professional Quadcopter flies, and bring it back to you at the press of a button.
INTEGRATED DJI LIGHTBRIDGE
Enabling incredibly long range and live HD video stream from your camera, DJI Lightbridge is built into both the remote and the Phantom 3 Professional Quadcopter itself. These two parts work in tandem to ensure a continuous link between you and your Phantom 3 Professional Quadcopter. Powerful communication signals slice through most environmental interference, giving you precise, full control and information from the aircraft at amazing distances.
CUSTOMIZED COMMANDS
Change your flight mode and set additional commands through the DJI GO app. Customize what each of the sticks does, and personalize the two buttons on the back of the remote to activate your favorite functions.
EPIC AERIAL VIDEO
Finally, a flying camera that packs years of experience in aerial imaging into one compact, easy to use system. With the Phantom 3 Professional, you're shooting 4K video at up to 30 frames per second and capturing 12 megapixel photos that look crisper and cleaner than ever.
PROFESSIONAL LENS
The f/2.8 lens has a 94⁰ field of view, virtually eliminating unwanted distortion that may occur when shooting wide aerial views with other cameras.
STABLE FOOTAGE
Securing and stabilizing your camera in place is DJI's trusted aerial stabilization technology. This 3-axis gimbal keeps your camera perfectly level in any flight conditions, resulting in beautiful, stable footage throughout every flight.