Description
DOBOT Magician Precise and Intelligent Industrial Grade Training Robot
DOBOT Magician is a multifunctional desktop robotic arm for practical training education. Installed with different end-tools, DOBOT Magician can realize interesting functions such as 3D printing, laser engraving, writing and drawing. It supports secondary development by 13 extensible interfaces and over 20 programming languages, which really makes your creativity and imagination increase without any limitation. As the good performance both in hardware design and software application, DOBOT Magician has won the CES 2018 Innovation Award and iF DESIGN AWARD 2018.
DOBOT Magician Applications
3D Printing
Laser Engraving
Writing & Drawing
Handhold Teaching
Graphical Programming
Multiple Extension Ports
HIGH QUALIFICATION STANDARDS
DOBOT Magician applies to major international standards like CE, RoHS, ERP, FCC, KC, PSE, TELEC, etc.
HANDS-ON EXPERIENCE FOR EVERYONE
DOBOT Magician is low cost, small size, and easy operation, which allows every student to practice on their own. It improves the teaching efficiency dramatically. It can be controlled by Programming, APP, Bluetooth, WiFi, Mouse, and more.

SECONDARY DEVELOPMENT
DOBOT Magician is compatible to develop user applications with its 13 I/O ports, API, released protocols. It can be developed with several programming languages, ROS, PLC, Microcontroller and Arduino.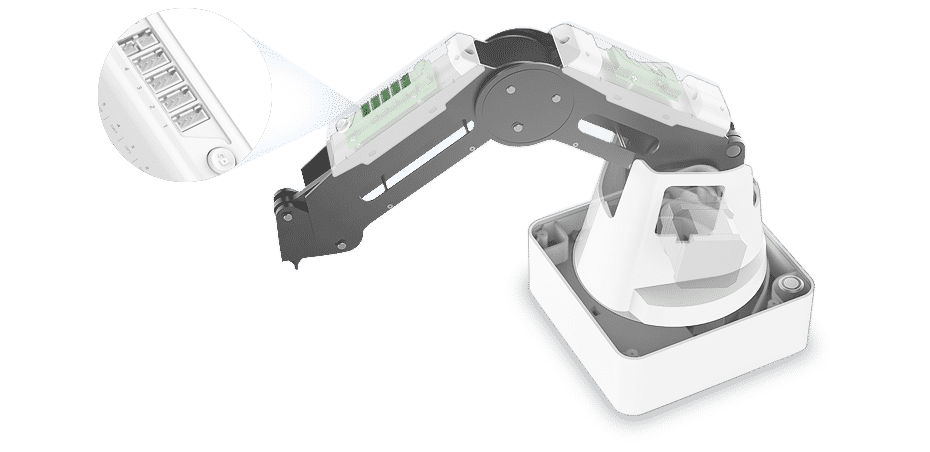 MULTI-ROBOT COLLABORATION
You can control several DOBOT Magician by the same device only, which allows Multi-Robot Collaboration.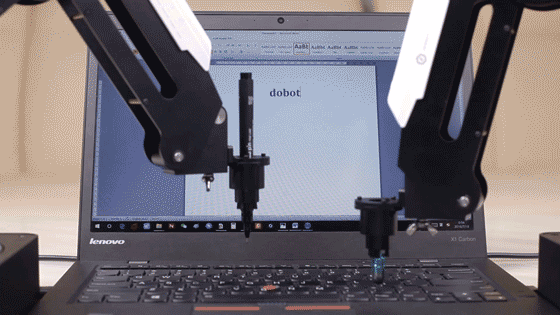 FREE COMBINATION & TRAINING CURRICULUM
DOBOT Magician is compatible with multiple accessories such as linear rail kit, conveyor belt kit, visual kit, and crawler robot to apply different training projects. What's more, multiple applications and training curriculum are available. An open platform for robot education like Industrial 4.0, Automation, PLC, etc.

COST-EFFECTIVE ROBOTIC ARM IN TRAINING EDUCATION
With a fair and reasonable price, DOBOT Magician has 0.2mm repeatability which can simulate almost all real factory robot applications.
***Up to now, DOBOT Magician has been successfully applied in many institutions such as Tsinghua University, Shandong University, University of Technology Sydney and more.Enterprises such as Volkswagen, Alibaba, Tencent have established cooperation projects with DOBOT Magician.
As the good performance both in hardware design and software application, DOBOT Magician has won the CES 2018 Innovation Award, iF DESIGN AWARD 2018, Red Dot Design Award 2018 and 2017 Red Star Design Award.
ADDITIONAL ACCESSORIES CAN BE ADDED, CALL 1(877)-407-5969
1. Conveyor Belt Kit (Simplest Mini Production Line)
1 more meter working range brings you endless possibilities!With the sliding rail kit, the working space of Dobot Magician can be fully extended. It can do large-scale tasks, such as long-distance picking and placing, a large range of writing, drawing or laser engraving.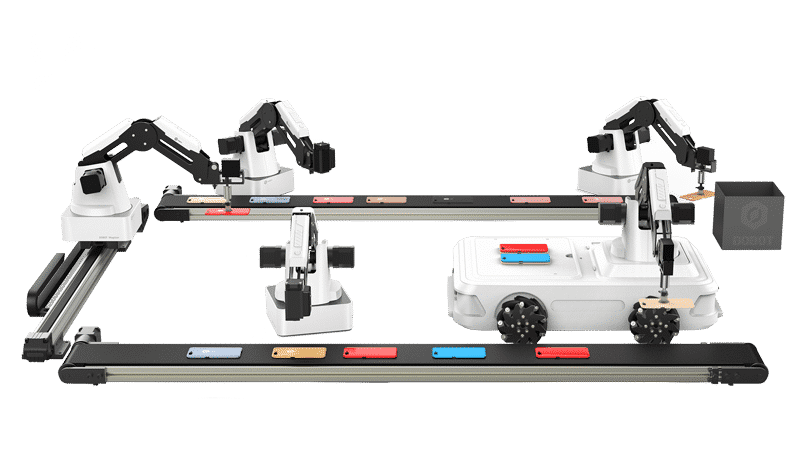 2. Sliding Rail Kit (Make Your Robot Go Further)
The Conveyor Kit for Dobot Magician makes you have a complete production line simulation. Conveyor belt with adjustable speed, distance and color sensor,combined with the powerfuland programmable Dobot Magician, these are the ideal essentials for you to create a highly effective simulated production line, or even to apply to actual factory scenes.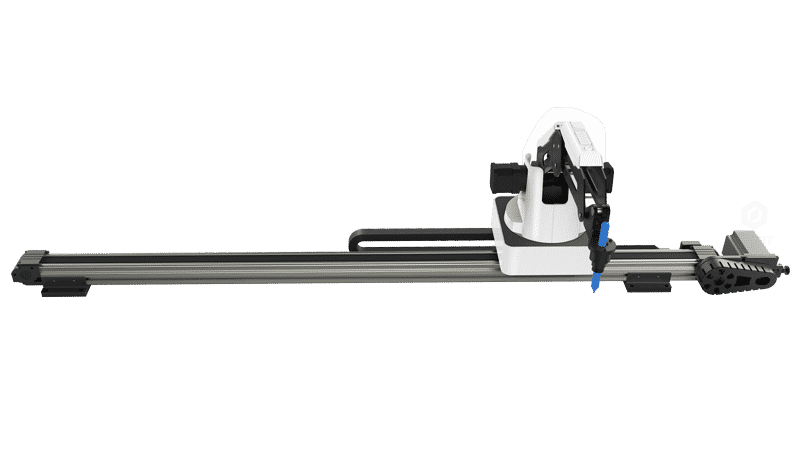 3. Robot Vision Kit (Eyes For The Robot)
The Robot Vision Kit provides a basic set of hardware platform for robot vision system development. You can set up the vision kit with Dobot Magician and start to learn how to integrate vision system with robot automation system. With the system, you can also do some researches on vision, artificial intelligence algorithm-simulation, or develop vision based industrial applications.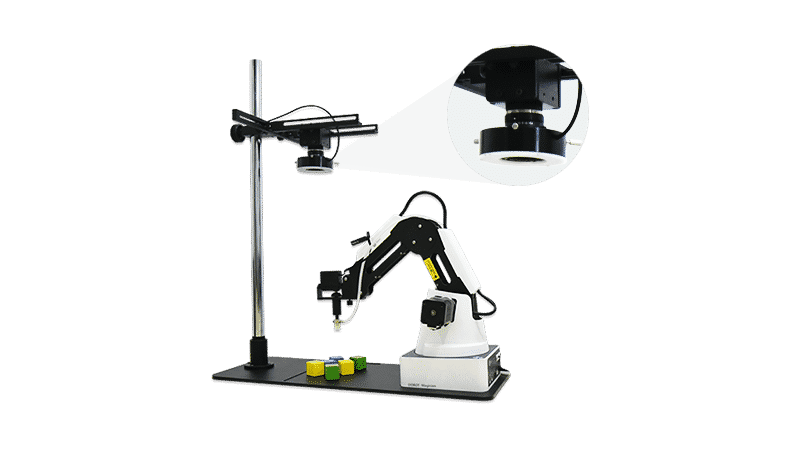 Specifications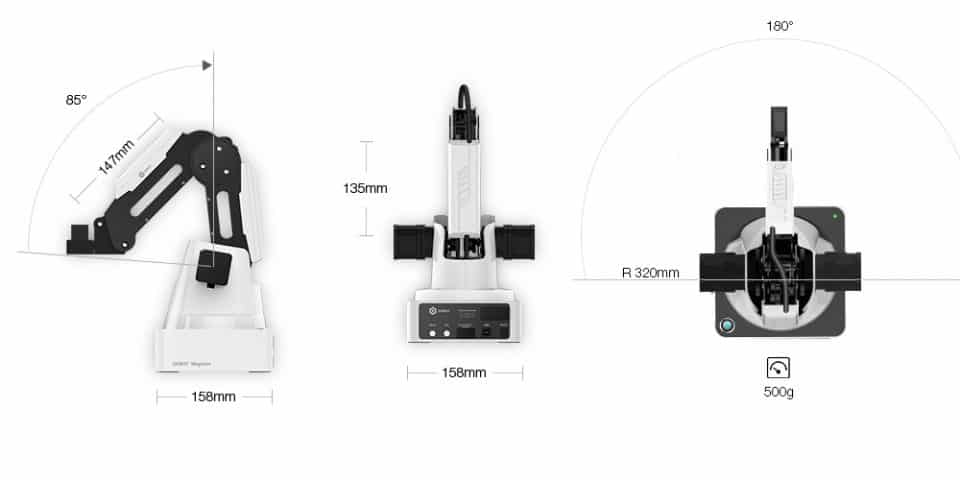 ATTN: To US customers In accordance with the US new tariff policy, there would be additional 25% import duties applied to DOBOT Magician basic and educational version.