Description
ROBOTIS Bioloid Premium Robot KIT
The Bioloid Robot is a do-it-yourself educational robot kit using modular DC servo blocks. Great for education/robot competitions/entertainment that you can build various types of robot such as spider, dinosaur, and humanoid. Bioloid includes gyro sensor, DMS, and multi-channel wireless expendable remote controller. With enhanced mobility and intelligence you can build your own robot and upgrade it as you please. The evolution of BIOLOID continues and inspires the creative minds worldwide.
Features
​​Excellent humanoid walking performance (Adjusting posture while walking)
Various sensors including Gyro, DMS, IR and more external ports
Remote control capability (IR-default, Zigbee-optional)
C-style programming & motion teaching with RoboPlus S/W (USB Interface included)
Transparent humanoid skin for customization
Digital Packet communication with daisy chain topology
Building various robots using versatile expansion mechanism
What's included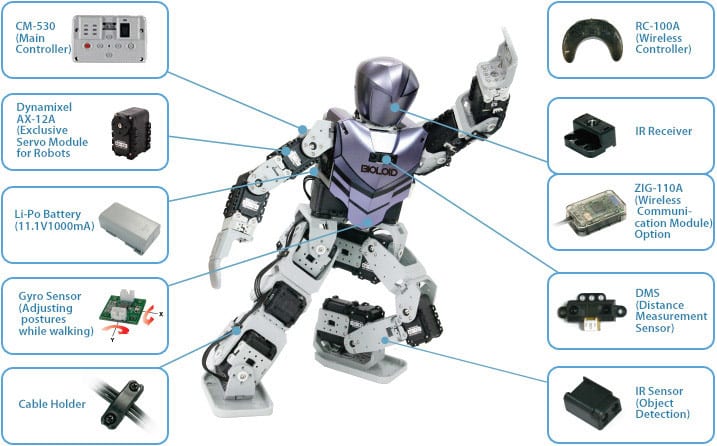 Gyro Sensor (2 Axis) x 1 pc
DMS x 1 pc
IR Sensor x 2 pcs
RC-100A (Remote Controller) x 1 pc
Head & Chest Skin x 1 set
Lipo Battery (11.1V, 1000mA/PCM) x 1 pc
Lipo Balance Battery Charger
Screw Driver, Cable Holder
Mini USB Cable
Plastic Frame Set
Quick Start Book
RoboPlus Software CD
NOTE:​ Product lead time 4 weeks. Required parts to build a robot are all included in Bioloid Premium kit, you can immediately build your own robot system!