Description
TRANSCEND Robotics ARTI Mobile Robot Platform
CALL FOR PRICE 1(877)-407-5969
ARTI is the all terrain, multipurpose mobile robot platform for building the next generation of robotic applications and unmanned ground vehicles (UGVs). Its patented modular design easily traverses the obstacles of the real world, and even climbs stairs, just by moving forward. Finally, true robotic mobility that makes autonomous and remote-operated applications simple to develop. Wide range of applications, and possible modifications makes ARTI a valuable product for government organizations.


ARTI3 Configurations
ARTI3 Mobility Platform enables integrators and developers to mobilize a broad range of applications in the real world. Use cases and industries include 3D mapping, telepresence, construction management, mining, and manufacturing. This versatile platform enables integrators to quickly mobilize sensors, electronics, and software, in as little as 90 days.
ARTI3 Vantage is an out-of-the-box solution for anyone to bring mobile robots into the environment they work. It comes equipped with pan-tilt-zoom (PTZ) cameras, 30-lb payload capacity, IP-54 for wet environments, zero-degree turn radius, and color LCD remote control. ARTI3 Vantage is ideal for human and dangerous environments, such as tactical operations and hazardous inspection.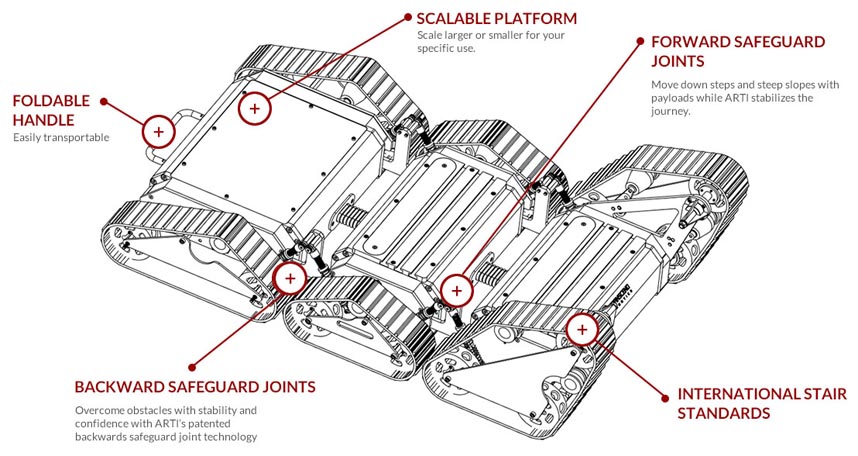 Features
ROBUST MOBILITY: Mobilize robotics wherever you need: from flat, static environments like an office building or warehouse, to unstructured environments such as outdoor terrain or construction sites, as well as multi-level settings that have stairs and curbs.
SENSOR AND PAYLOAD-READY: Add sensors and payloads specific to your application. Whether you are looking to add cameras for visual inspection and security, sensors for data collection and capturing environmental conditions, containers for material handling and automated logistics, or robotic arms for object gripping and manipulation, the possibilities are endless.
INTUITIVE AUTONOMOUS NAVIGATION: Deploy ARTI™ with autonomous navigation and other capabilities that utilize computer vision and AI. Create and integrate your proprietary algorithms with our ROS-based API. Utilize our mapping and route planning application to configure ARTI to run routes on a scheduled basis — yes, it's easy enough for anyone to use.
CONFIGURABLE AND SCALABLE: Satisfy your unique set of requirements by choosing from many options across all aspects of the platform, including the level of autonomy to support, the computing platform and power system, tank tread and wheeled drive train — and even the size of the robot — just to name a few areas.
CLEARLY THE SUPERIOR SOLUTION: "ARTI™ is unique in its ability to go up and down stairs, over an obstacle, or whatever is in your way. You do not need to put it into a special mode to make it do that. We develop robots for our customers on a very rapid schedule, so it is a huge advantage in savings in time and cost to take a platform from concept to customer site at such a rapid pace." – Jeremy Parsons CEO, Mantaro