Description
ROBOTIS Manipulator-H Robotic Manipulator
The Manipulator-H Robotic Manipulator is a Multi-purpose and affordable robotic arm designed for research and automation projects. Designed for applications as R&D projects, to be mounted in a mobile manipulator or as a part of a robot torso or a humanoid. The arm is available in two main configurations, the manipulator-L and the manipulator-H. The "L" configuration has a repeatability of ±0.1 mm, a weight of 4.5kg, 1kg of payload and a 180W power. While the "H" configuration has a repeatability of ±0.5 mm, a slightly higher weight (5.5 kg), a payload of 3 kg and a power of 640W. The main characteristics of the ROBOTIS Manipulator are its lightweight for an easy placement and transferring, a modular design for an easy maintenance and its competitive price. Both configurations have 6 DOF and an optional gripper with one degree-of-freedom.
Features
Multi-purpose, low-cost manipulator.
6 DOF (built with Dynamixel Pro).
Modular structure for easy maintenance.
Lightweight design for easy placement and mobility.
Endures payload suitable for small to mid scale operations.
Wide operation range.
Suitable for repetitive and high precision operation.
USB interface, RS-485 communication.
Provides SDK for user programming.
(provides examples of forward / inverse kinematics, profile control).
All-in-one module
DC Motor Controller Driver Sensor Cycloid Reduction Gear
Small, Lightweight
Minimized module size with the self-developed small, lightweight, cycloid reduction gear
High weight to output rate (0.05Nm/g)
High shock resistance
Precise control and low backlash
Incremental encoder and contactless magnetic encoder for absolute positioning
Low backlash of 3~4arcmin
Performance data provided, tested by KOLAS (Korea Laboratory Accreditation Scheme)
Torque control using current sensor
High current sensing algorithm and current feedback control
Position, speed, and current control using an algorithm
Easy development environment
Provides C-based library
Provides various solution examples (C , LabVIEW, C#, eclipse, JAVA, etc.)
Package Contents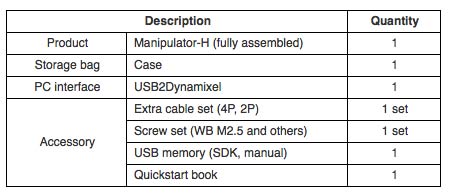 H/W Specifications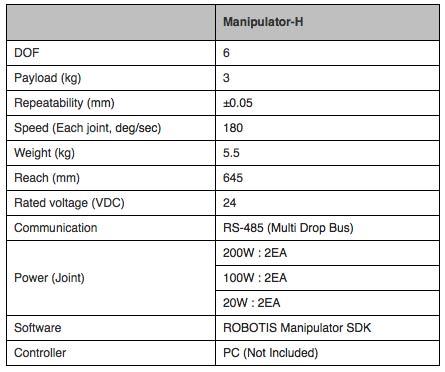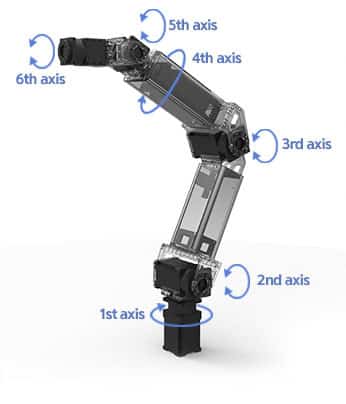 S/W Specifications
Arm access communication protocol library and examples
Arm control parameter setting and monitoring example
Kinematics library (FK, IK) and examples
Joint / end point profile control library and examples
Actuator Configuration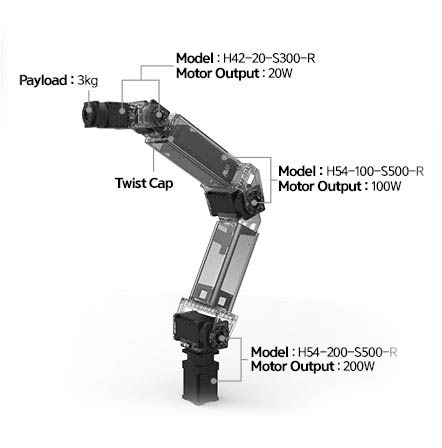 Actuator (DYNAMIXEL PRO) Description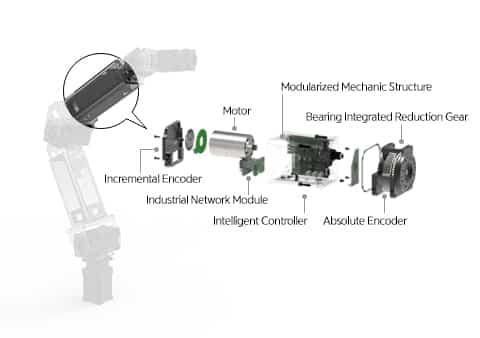 Key Purpose
1. Research and Education
Experiment with kinematics and dynamics
Design and research two-armed robot system
Mobile robot system
2. Industrial Field Operation
Test and examination equipment
Small transport system
NOTE: Requires 6 weeks of lead time upon order. This product has NOT yet been released(Pre order only).