Description
 DST Robot – HOVIS Fighter Humanoid Robot Kit
The HOVIS Fighter Humanoid Robot Kit is a small fighter robot with 17 degrees of freedom. It has a Bluetooth module and it can be controlled by Android Phone. Also, it's very light and dynamic motions are available. Moreover, user can customize the robot as they wish with the provided programs(DR-SIM, DR-Visual Logic) among with 3D Printed upgrades.
Features
DST Robot's HerkuleX servos have been designed based on accumulated technical know-how in industrial robotics control technology to maximize high efficiency, size and user's convenience. Enjoy the brilliant performance of HerkuleX series servos which are equipped with Full Duplex TTL communication to enhance feedback, Velocity Override for smoother robot motion. Mechanically, metal inserted nuts have been used for easy assembly and rock solid structure, and multi-LEDs provides various useful information for builders.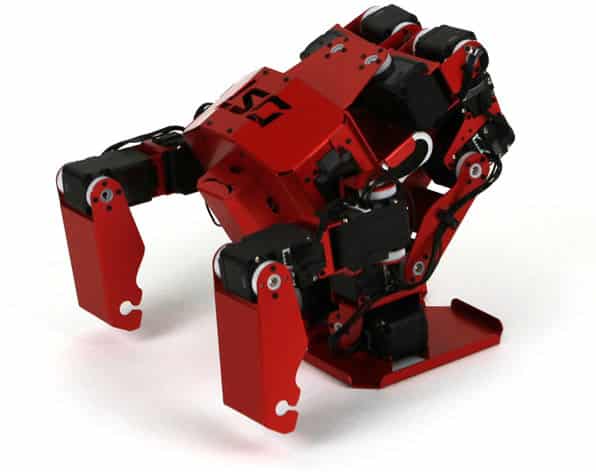 The HerkuleX DRS-0101 boasts 12kgf.cm torque and is equipped with super engineering plastic gear train and durable metal brushed cored motor. The DRS-0201, having super reinforced metal gear train along with high performance coreless motor with 24kgf.cm torque, suits for tougher applications and conditions.
DRS-0101 Performance and Specs (SERVO)
Size: 45mm(W) X 24mm(D) X 32mm(H)
Weight: 45g
Input Voltage: 7.4V DC
Stall Torque 1.2N.m (12.0kgf.cm) at 7.4V
Max. Speed 0.166s/60˚at 7.4V
Operating Angle 320˚, Continuous Rotation
Resolution 1024 Steps
Communication Full Duplex Asynchronous Serial(TTL), Multi Drop, 0~254 ID, Max 1Mbps (0.67Mbps for DRS-0101, DRS-0201)
Motor Metal Brush Cored DC
Position Sensor Potentiometer
Gear Engineering Plastic
Feedback 4 Position(DRS-0402/0602 : 5 Position), Speed, Temperature, Overload, Voltage, Real Time Tick, etc.
Features PID, Feed forward, Trapezoidal Velocity Profile, Velocity Override, Torque Saturator & Offset, Overload Prevention, Absolute Position Adjustment, Deadband, etc.
Programming More than 50 parameters settings available via HerkuleX Manager Kit / Arduino, C & C API Library