Description
e.ziclean ULTRA SLIM V2 RED Cleaning Robot
The First Ever Connected Vacuum Cleaning Robots. Thanks to its unique adaptive technology, e.ziclean BOT cleaning robots fit your home environment perfectly… Through USB interface and free online e.zigenius ™ platform, your robot automatically mirrors its performance and moves depending on the size of your apartment or house, its furnishings obstruction, the number of rooms to be cleaned and the nature of your floor. A major and exclusive innovation, making e.ziclean robots among the products offering the best coverage and vacuum efficiency of the market.
Features
Slimest Design Ever
TORNADE™ Vacuum
Lithium Battery
Efficient on all Floors
Weekly Schedule
Hygienic Bin System
Additionnal Accessories
Up to 90m² Coverage
More Intelligent, More Economical
It consumes only what it needs. Because it knows better your home than any other robot, e.ziclean BOT PETS automatically adjusts its cleaning time, depending on the number of rooms and square feet to cover. Saving battery and brushes time of life. e.ziclean takes care of your home, but also save your money !
Your Daily Chores Ally
Delivering The Ideal Performance. E.ziclean BOT PETS is equipped with all the features you can expect from the top products currently on market. Autonomous and Intelligent in all respects, it vacuums through your home with an impressive discretion, and ensure everyday clean floors.
Lithium-Ion Battery Power
That makes a big difference. Unlike NiMH batteries, lithium-ion material provides extended durability and a much greater performance. No memory effect and no loss of autonomy. Its characteristics make this battery the current best solution for powering the most advanced mobile devices and electric cars.
The New Companion of Pet's Owner
Reigning Champion of Pet's Hair. Short or long, e.ziclean BOT PETS picks-up an incredible amount of hair, in places where they are most likely to get stucked. Its new main brush patented E.ZIPETS ™ and its wide 800 ml bin, make this robot model best suited for pets owners with less maintenance hassle.
Cleaning on Schedule
Anti-Allergens. E.ziclean BOT PETS is equipped with a HEPA 10 filter, trapping up to 99% of allergens. It filters the air before it leaves your vacuum cleaning robot and retain various particulates as larvae and pollen. Your interior is freed from micro-dust for a healthier air to breathe.
Ergonomic And Hygienic
20% Pick-Up Efficiency / -10% Noisy. E.ziclean PETS* innovative brush is designed with nylon and soft plastic parts. Recognized as the perfect material assembly for collecting pets hair on all type of floors, this smart brush recovers up to 20% more dirt. Built with removable ends, it offers convenient and quick maintenance. Its ergonomic design also benefits from a significant noise reduction.
Refresh Your Home
Scents Diffuser: Enjoy the fragrance diffuser ability of your robot, to eliminate undesired odors and benefit from lasting scents. Simply place one scented sticked into the robot\'s bin, and it will freshen the air every time you use your e.ziclean BOT.
Disinfecting your Floors: E.ziclean BOT is equipped with a UV-C lamp that efficiently and environmentally disinfects your floors. It generates 253 nm waves, known for their germicidal action on bacteria, viruses, spores, fungus, mold and dust mites: Thanks to its destructive effect on the reproductive system of these organisms, their multiplication is stopped.
Included
1x Charging Station
1x IR Wall
1x Remote Control
1x Nylon Main Brush
2x E.ZIPETS™ Main Brush
2x extended CORNER side brushes
2x HEPA Filters
1x set of 6 scented sticked
1x Mopping Kit
1x Robot Cleaning Tool
1x EU Charging Plug
1x Easy Guide
1x User Manual
Warranty and Services
E.ziclean BOT PETS includes 2 years manufacturer warranty and 5 years commercial services thanks to e.zichange™ program.
Accessory Pack
For your convininece add aditional accessory pack with your purchase.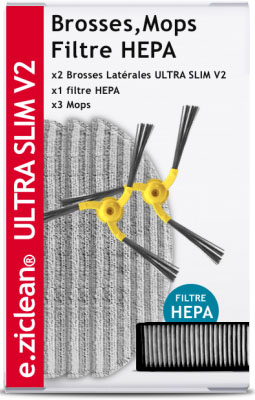 1 main brush: The E.ziclean vac100 main brush has a unique "S" brush design. This is to ensure a better collection of dust, pet hair, and other particles to keep your floors as clean as possible.
2 mops: Reusable and hand washable, the attachable mops made for the E.ziclean vac100 allow for enhanced cleaning of hard floors such as wood floors and tile.
2 filter kits: The two sets of three filters retain the dust and particles that are sucked into your vacuum cleaner robot. You can also add a few drops of E.zifresh natural oils to the filter and your vacuum will fill your home with a pleasant and purifying scent.
2 side brushes: The side brush of your E.ziclean vac100 robot vacuum allows your vacuum robot to clean incredible close to hard to reach places such as in corners or under baseboards. The side brushes are attached and detached with ease, this makes cleaning and maintenance simple and effortless.
NOTE: Product lead time 7days.