Description
ROBOTIS THORMANG3 Open Platform, Full Size Humanoid Robot
The THORMANG3 is a open source, full size humanoid robot with 7DOF arms and a 2DOF head that can manipulate objects and perform a variety of tasks. Was designed for research and advanced robotics projects. This Linux based robot comes with a Logitech C920 HD camera, Intel Realsense, sensors, battery, speaker, gripper, LIDAR, network hub, and everything you need to get started.
Features
Stable Walking with Human-Friendly Scale
Mission Capability using Adaptive Gripper
Powerful Dual PC-level Computing with Intel NUC
Various Sensing with Force/Torque Sensor, LIDAR/IMU/Camera
Full ROS Support with 3D CAD data and Open-Source SDK
DYNAMIXEL PRO based Modular Design with Full Metal Body
Best for SLAM, Locomotion, Manipulation and HRI Research
H/W Architecture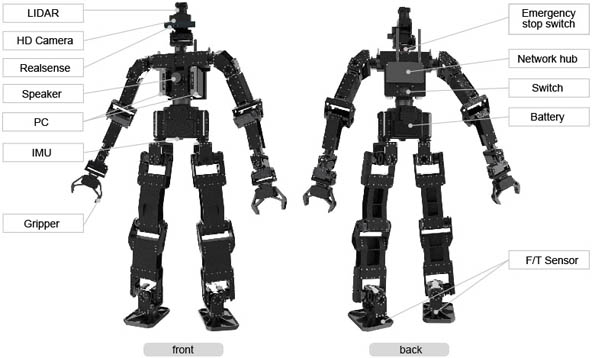 Advantages of THORMANG3
DYNAMIXEL PRO H-Series x 29 DOF
Easy Maintenance and Customizing
Full ROS Support with 3D CAD, Open-Source SDK
Rviz, PCL, MoveIt Plug-in
Gazebo 3D Simulator
Contents
1x Fully Assembled THORMANG3
1x Battery Pack
1x Battery Charger
1x Maintenance KIT
1x Lift
1x Carry Case
THORMANG3 Purpose
Research and Development for rescue missions involving hazardous environments not suitable for humans.
Robotics Research.
Sports and Competitions.
Quote Request Info
Availability: 12 weeks upon order confirmation.
Basic installation and maintenance training upon delivery
Comes with 1 year warranty
CONTACT US AT 1(877)-407-5969 FOR QUOTE!