Description
SwellPro SPRY WATERPROOF FROM HEAD TO TOE AIRCRAFT
The Spry drone is engineered to be waterproof and buoyant. Purpose-built for action in the harsh marine, rainy, and snowy environments. Specially coated motors and corrosion resistant materials throughout. Land and take off from the water with total peace of mind.
FIRST-EVER WATERPROOF REMOTE CONTROLLER
Relax and enjoy total freedom while filming, as your Spry remote controller can be used in the rain, sea spray and even dunked shortly in the water. The joysticks, built-in live monitor and all buttons are protected against spray, yet work smoothly and precisely.
YOUR ACTION CAPTURED IN 4K
Being small doesn't mean you have to compromise image quality. The Spry's onboard camera utilizes a Sony 1/2.3" CMOS sensor paired with a lens that minimizes fisheye distortion for natural looking images.
With the Spry drone, record stunning 4K video at 30 frames per second and a max bit rate of 64mbps, or take crisp 12MP photos.
STABILIZATION
The Spry leverages electronic image stabilization to provide smooth and fluid video capture. Your action footage will look good straight out of the camera – ready for sharing.
CAMERA DOME
The Spry's 4K camera is completely enclosed in an optically-engineered polycarbonate dome to provide high transparency without distortion. A specially designed shade surrounding the dome filters out excessive glare to balance the harsh highlights often found on the water and snow.
AUTONOMOUS FEATURES
Follow Focus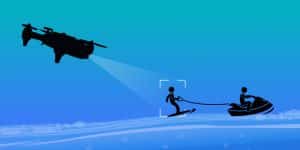 Follow Orbit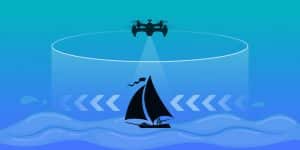 Return to Boat
Most drones will return to their launch point if they lose reception. When the Spry flies out of range or you want it to return to you, the drone will automatically return to the position of the remote controller – wherever you are. With our "Return to me" feature, your Spry will return to you even on a moving boat.
ENHANCED CONTROLS
Even more smart features are available by pairing your mobile device to the remote controller with the Spry APP control.
One Key Launch
Tap-to-Fly
Orbit Flights
Auto-Return Home
Autonomous Navigation
High-thrust motors and high-power ESCs push the speed limit of the Spry to over 43MPH in manual mode.
THE SCIENCE OF DESIGN
Aerodynamics: The Spry is designed from the ground up to achieve a new compact shape which is streamlined for reduced drag and turbulence.
Heat Dissipation: An array of aluminum heatsinks keeps your hot new drone cool by dissipating heat to the outside of the sealed frame.
Landing Gear/Bumpers: Four rubber bumpers absorb vibrations when the Spry lands on the ground.
Hatch Lid: Swellpro's exclusively designed hatch ventilates the airframe while preventing water entry. The lid's design also prevents water on the skin of the drone from entering the fuselage when the lid is opened.
External ON/OFF Switch: An external waterproof switch allows you to power on or off the Spry without opening the hatch lid.