Description
STEADIDRONE VADER HL Professional Small Unmanned Aerial System (RTF)
*The only thing bigger than the Vader\'s payload capacity is the LAUNCH SPECIAL we are running for a limited time, purchase a Vader HL during the special period and get a Mavrik X8 free! Yes, you heard us right, get a Mavrik X8 valued at $7 995.00 absolutely free.
The NEW VADER HL Professional sUAS(RTF) has been developed and designed to offer the most advanced, heavy duty, heavy lift(Up to 15kg Payload) long endurance multi-rotor sUAS available, with features and quality you simply won't find on any other system. A reliable tool for everyday commercial and industrial applications, with a massive payload capacity and wide flight envelope, the VADER HL folds down into a compact travel case, smaller than any other system of comparable size, its the only option for serious aerial professionals and industry.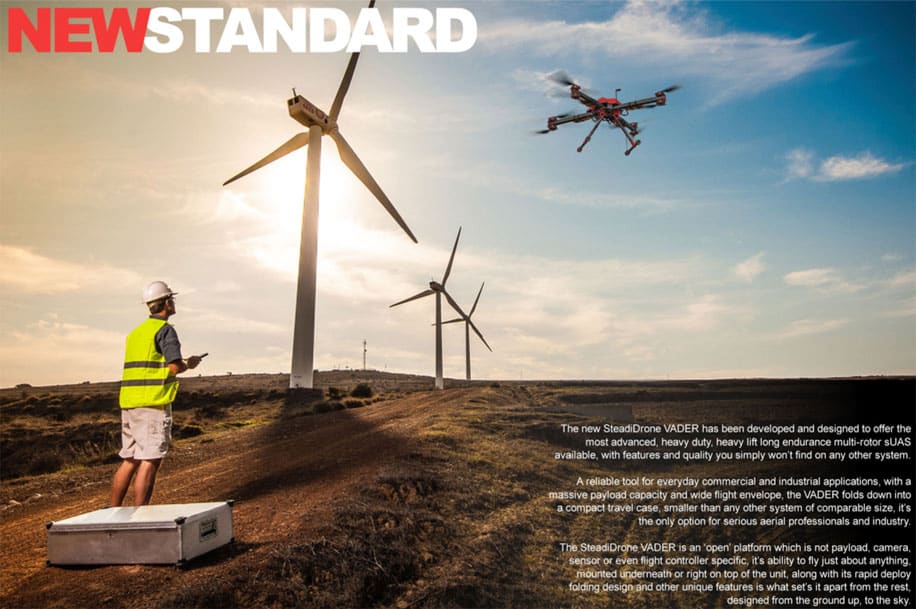 The SteadiDrone VADER HL is the \'Heavy Lift\' version of the standard Vader, an 'open' platform which is not payload, camera, sensor or even flight controller specific, its ability to fly just about anything, mounted underneath or right on top of the unit, along with its rapid deploy folding design and other unique features is what sets it apart from the rest, designed from the ground up, to the sky.
OPEN PAYLOAD BAY, FLY ANYTHING
All SteadiDrone aircraft are designed as \'open\' aerial platforms and are able to fly a huge variety of payloads, cameras and sensors. Turn-key, ready-to-fly solutions for different applications, our standard \'open\' X4 and X8 systems as well as the \'M\' and \'F\' variants.
FEATURES
*Now Includes Aerial Data Service PROPELLER package (Valued at $995) free.
SteadiDrones are changing the way industries manage, measure and monitor. Faster, cheaper and better quality aerial data is available today, and best-practice organisations across many industries are looking for ways to get drones into their workforce.
Propeller\'s easy to use, online platform has three great uses, with no expensive software or hardware required, meaning that you\'ll never have to download and install updates, buy new hardware, or worry about newer technologies.
Our surveying tool takes data from your SteadiDrone and processes it into highly accurate 3D models, which can then be used to measure volumes, slopes and track changes across your sites.
The brand-new inspection tool lets pilots perform safer, cheaper asset inspections across a range of industries. The data capture is simple, and it\'s ridiculously cheap to process, allowing for near instantaneous turnaround.
Already have a processing solution? Let Propeller help you with the hosting and end delivery to your clients. Propeller\'s white-labelling solution gives your business its own powerful platform to share flights with clients through with a custom login portal, branding, colours and logos.
Benefit from regular, rich imaging that can be shared securely with multiple users,easily accessible both in the boardroom and out on sites on mobile or tablet. Minimise the need for your personnel to spend time in dangerous areas. Using SteadiDrones to perform arbitrary or regular inspections reduces risk and the associated needs and costs of access infrastructure. Ensure gradient slopes are suitable for safe vehicle movement. Low cost access to regular mapping reduces need for oversight and monitoring by environmental authorities, demonstrating compliance and providing transparency.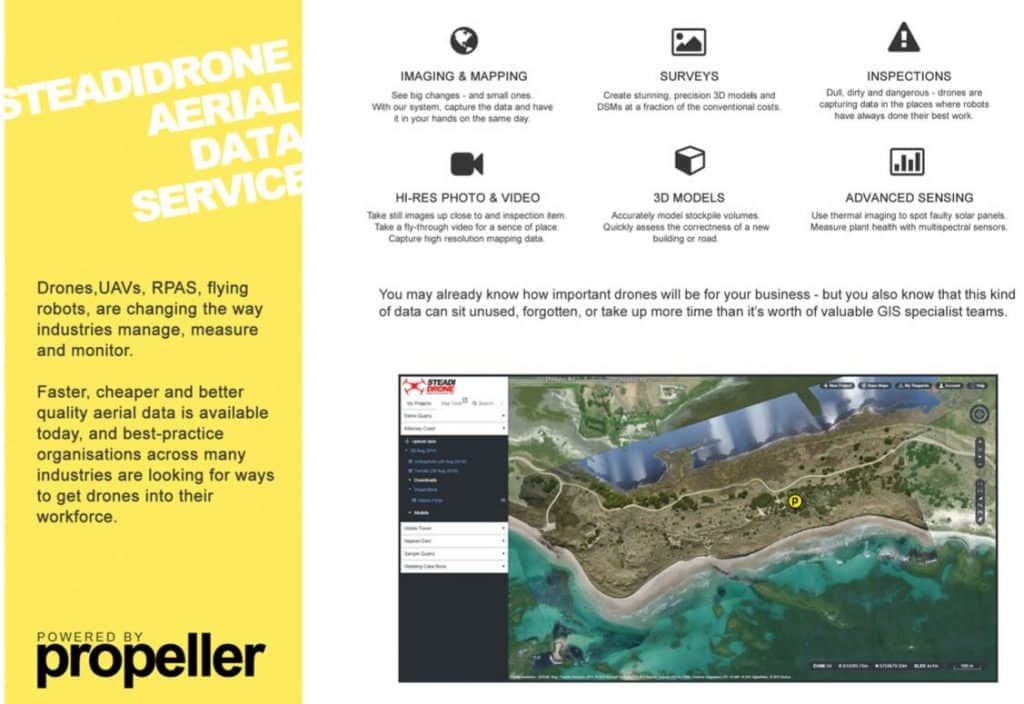 CONTENTS
SteadiDrone VADER HL X8
Flight Controller GPS Data Telemetry
SteadiDrone VADER Case
Radio Controller System
2 x Prop Pair 26×8.5" Carbon (not included with X4)
2 x Prop Pair 28×9.2" Carbon
SteadiDrone VADER Battery Case
Battery Charger PSU
8 x 10 000mAh 6s Batteries (2 Sets)
2.5mm Allen Key
Logbook
Lanyard Sticker
Quick Start Guide USB Drive
VADER Extras Kit
NOTE: For more details call us at 877-407-5969.