Description
Robomow RC306 Robot Lawn Mower
If your Lawn is in the 6,400 square feet range, this is the mower for you! Sleek, streamlined and with a Base Station that can be hidden from sight for a more aesthetic look and feel, the Robomow RC306 is discreet, compact and extraordinarily precise. For added convenience and extra remote control, you can even regulate when and how often you mow, from your very own Smartphone! RC306 Robot Lawn Mower. can handle any terrain up to 18 degree slopes, it can mow up to 3 areas automatically with free Robomow App. The Robomow RC306 is a serious lawn mower. It is the strongest, most rugged robotic lawn mower available today. It is also reliable and near-maintenance free.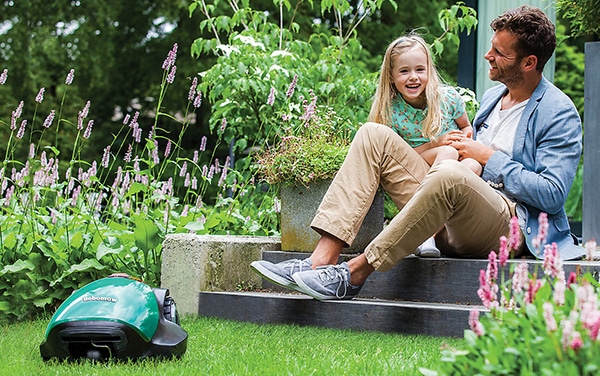 Features
Rain Sensor: Allows the user to choose whether or not Robomow will operate when sensing rain or High humidity.
Base Station: Robomow is charged at the Base Station and stays there between operations. Robomow independently departs from the Base Station, cuts the lawn and returns for charging until the next operation.
Slopes: Robomow can mow areas imside the working area with slopes of up to 35 percent.
Multiple Zones: Robomow can handle Lawns with several zones and mow each one individually.
Child Lock: This is a safety feature to help prevent children or others not familiar with the safe operation of Robomow from operating it freely.
Unique Edge Mode: Robomow is the only robotic mower with blades that reach to the very borders of its base. It is also the only one that has a special Edge mode, in which it follows the perimeter wire for complete coverage of the lawn edges.
Anti Theft: Lock your Robomow with a PIN code, to prevent others from operating it.
Height Adjustment: Robomow's cutting height can be adjusted to your lawn's needs.
Safety Features: Robomow blade stops rotating immedialtey if it is lifted from the ground or tilted to a vertical position. When the bumper senses an obstacle, blades stop and Robomow changes its driving direction. To prevent children from operating Robomow, activate the Child Lock.
Heavy Duty Blades: With the strongest steel blade and the widest cutting surface, Robomow can easily manage the first cut of the season.
Modular Design: Robomow is built in a way that allows you easy servicing and part replacement without professional help.
Mobile Application and Control: Operate and communicate with your Robomow through your mobile phone or tablet.
Remote Accesss: Allows you to communicate and stay connnected with your Robomow from anywhere in the world. Sold as an accessory.
Faster Mowing: With its wide cutting blade width, Robomow cuts the lawn quickly and gives you more free time on your lawn.
Powerful Mowing System: Robomow is equipped with powerful mowing motors that allow him to handle any terrain and grass type.
ECO Mode: Use ECO (Economic) option to operate Robomow with the minimum energy needed for cutting the grass and maintaining the lawn.
Low Noise: Although Robomow is very powerful, it is also very quiet and allows to enjoy your lawn even when Robomow is mowing.
Box Contents
1x ROBOMOW RC306
1x BASE STATION AND STAKES
1x 50 FEET EXTENSION CABLE
1x POWER BOX W. MOUNTING KIT
600 FEET OF PERIMETER WIRE
250 PEGS
2x WIRE CONNECTORS
1x PLOT CONNECTOR
1x SETUP AND OPERATION DVD
1x USER MANUAL
1x ROBO RULER