Description
LittleBits Droid Inventor Kit
Kids can create their own custom Droid and bring it to life using littleBits electronic blocks! With the free Droid Inventor app, they'll give their R2 Unit new abilities and take it on 16 missions. Then they'll level-up their inventor skills, reconfiguring parts to design any Droid they can dream up.
Brought to life with littleBits: littleBits makes electronic blocks that enable kids to get creative with technology. The blocks snap together with tiny magnets, making it easy to create and invent with electronics.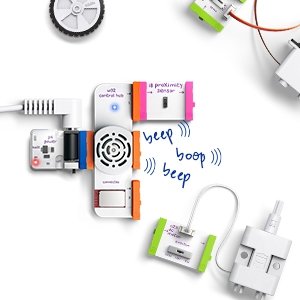 ***WARNING CHOKING HAZARD – Small parts. Not for children under 3 yrs.
LittleBits Droid Inventor Kit Perks
Complete Droid Kit: Comes with everything kids need to create and control their own Droid – right down to the battery – plus stickers and extra accessories.
No grown-ups necessary: Kids can put together easily with step-by-step, in-app instructions, then challenge themselves to level-up their inventor skills by building new custom Droids.
Missions & challenges: With the Droid Inventor app (iPhone & Android), kids can teach their Droid new skills like head spins and self navigation, and send it on 16 special Star WarsTM missions.
Customizable: Stickers and in-app missions help kids get creative – inventing their own R2 unit with crafts & household objects, and giving their Droid its own unique personality.
Reconfigurable: Each electronic block has a different function (motor, sensor, speaker, etc.), enabling kids to rebuild their Droid in new ways, transforming their original R2 Unit into any Droid they can dream up
LittleBits Droid Inventor Kit Features
Customize & Personalize: The Droid becomes a loyal sidekick kids can customize and make their own. Kids can reconfigure it for new functionality (like the Delivery Droid or Intruder Alarm!), give it new shapes with household items, and even decorate it to show their unique personal style.
Endless Creativity & Play: With littleBits, kids use their brains and their hands to engineer innovative Droids. They can add functionality – and hours of playtime – by expanding their littleBits collection with additional kits and Bits.
Force Mode: Kids can guide their Droid using Force Mode, and take their new sidekick on galactic adventures.Create interactive inventions using your engineering and problem-solving skills.
Drive Mode: Droid-driving is easy with controllers waiting to be unlocked in the app, including a joystick, sliders, and tilt mode.
Self Navigation: The Droid can detect obstacles in front of it and change course like it has a mind of its own.