Description
EZROBOT Revolution JD Humanoid Robot Kit
The JD Humanoid Robot Kit is a fully functional humanoid robot kit built with EZ-Bits. A humanoid design is not only fun, but also educational. He can interact with human tools and environments for experimental purposes, such as the study of bipedal locomotion. This humanoid boasts 16 degrees of freedom with metal gear heavy duty servo motors! The camera in the head of this robot can be used for vision recognition to track color, motion, glyphs, QR codes, faces and more. There are 18 RGB LEDs in the eyes of JD, which can be easily programmed and animated for unlimited expressions of up to 1 million colors. The included EZ-Builder Software makes it easy to create movements, programs and personalized mobile apps for your phone!
Features
Walks Right Away
JD includes apps that allows him to walk, right away. The EZ-Builder Software includes an amazing GAIT feature called Auto Positioner. This allows you to create frames and actions to animate the servo positions. The actions can be linked to any other control, such as Speech Recognition, Vision Tracking, Joysticks, Wii Controllers, and more.
Interactive
The eyes of this robot have 18 LEDs (9 per eye). Each LED can be configured up to 1 million color combinations. The head contains a camera which can track colors, faces, motion, glyphs and more.
Grippers
The compact grippers are powered by strong metal geared servo motors. They are useful for picking up and holding objects.
Education and Home
In the classroom or at home, EZ-Robot revolution has a big impact on education. Not only do students learn about robotics, they have fun doing it. With hundreds of tutorial videos, no questions are left unanswered. Personalizing EZ-Robot behaviours teach students how robots walk, see, hear and interact with their surroundings.
Easy-to-use Software
If hardware is the heart of your EZ-Robot, then software is the soul. Introducing EZ-Builder Robot Software. Your EZ-Robot is controlled by the World\'s easiest, most powerful and scalable robot software. EZ-Builder takes a productive and unique approach to programming your robot. Simply add behaviors such as Camera Tracking, Speech Recognition, Wii Controller, GPS, GAIT Positioning, and hundreds more!
Create Animations
Like a flip book, the Auto Position in EZ-Builder is used to animate your EZ-Robot. It\'s magic! The software will automatically calculate how to transition between your custom frames.
Mobile Support
Use your Android or iOS Mobile Device with an App from our EZ-Cloud App Store, or create your own App easily in our EZ-Builder Robot Software.
Vision Tracking
The camera enables advanced vision learning, detection and tracking abilities. Your EZ-Robot will interact with Objects, Colors, Faces, Motion, Glyphs, and QR Codes.
High Tech Brain
The EZ-B v4 is not only the brain of your EZ-Robot, it is also the World\'s most powerful and compact robot brain! The EZ-B v4 scales for beginner and advanced users. The EZ-B is two PCB\'s sandwiched together in a compact 2×2 inch package. For protection, the speaker and electronics are enclosed within a stylish white plastic shell with a speaker chamber for clear enhanced audio. For advanced users, the EZ-B may be removed from its casing and mounted directly in your custom robot.
Heavy Duty Servo Motor
Includes digital heavy duty 15 kg/cm servo motors! The metal gear and ball bearing internals will withstand a high load. These servos were designed with enough strength to enable your robots to walk, move or lift.

Behaviors
Easily customize behaviors of your robot with the click of a mouse… WiiMotes, Artificial Intelligence, Speech Recognition, and hundreds more.

Intutive
Includes a built-in 3D Robot Designer, Drag\'n\'Drop Controls, 3D Printing Supporting and more.. Everything you need to change the world!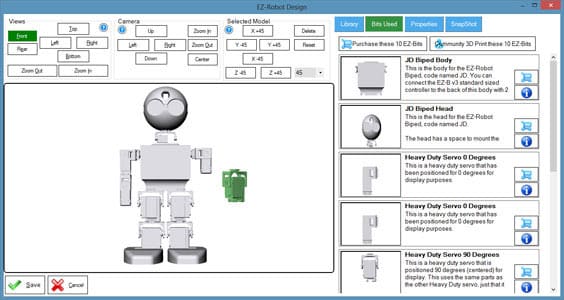 Vision
Advanced vision features enable learning, detection and tracking abilities. Interact with Objects, Colors, Faces, Motion, Glyphs, and QR Codes. 

Software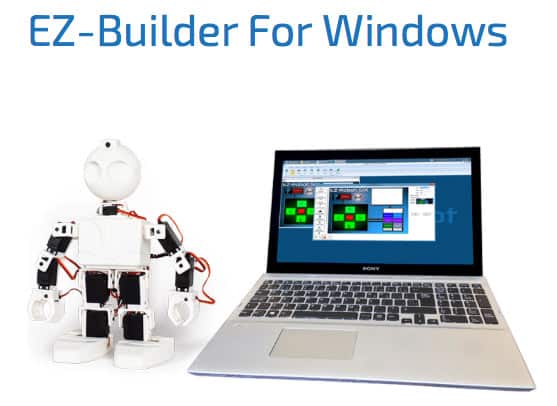 EZ-Builder Version 2014.11.30.00 Introducing EZ-Builder! The world's easiest and most powerful robot control software designed exclusively for EZ-Robots. Scalable for beginner and advanced users, this software introduces amazing features that will bring your robot companion to life!
Minimum Operating System Requirements
Windows 7 minimum
Intel Pentium or AMD 64 or 32 Bit 1 GHz CPU
2 GB RAM
50 MB Drive space
Specifications
200MHz 32-Bit Processing (120 MHz 32-bit Cortex M3 ARM Processor & 80 MHz Microchip PIC32)
Small Size (2.1″ x 2.2″)
WiFi connectivity (Ad-Hoc/Infrastructure/WEP/WPA/WPA2)
Embedded Web Server
Energy Efficient Digital Switching Power Supply
Resettable fuse protection
Reverse polarity protection
1 x Amplified Speaker for Speech and Music
8 x 5 volt tolerant Analog (ADC) ports
24 x 5 volt tolerant Digital ports (servos, PWM, and more)
Up to 73 Servos (combining PWM and Dynamixel)
Dynamixel Servo Support
3 x i2c Port
1 x EZ-Robot Video Camera Port
3 x High Speed UART Ports
Battery and Temperature Monitor
Heavy Duty Servos Specifications
Operating speed: 0.24sec/60degree (7.4V)
Stall torque: 15.0kg-cm/529 oz-in.(7.4V)
Temperature Range: -20C to 60C
Operating Voltage: 4.8V to 7.4V
3 pole ferrite
Dual ball metal bearing
All metal gears
connector wire length: 32cm
Futaba 3f (25 teeth) for driving spline/shaft
6.2mm spline (including teeth)
Dimensions
Width 17 cm
Length 11 cm
Height 30 cm
Weight 2.700 kg
Includes
1 x EZ-B v4 WiFi Robot Controller
1 x EZ-Builder Control Software with Apps
1 x Humanoid Head with Camera & RGB Eyes
1 x Humanoid Body
6 x Lever Servo-motor
2 x Servo-motor Gripper
1 x Humanoid 2 Servo-motor Foot & Ankle (Left)
1 x Humanoid 2 Servo-motor Foot & Ankle (Right)
2 x Extension Cable
1 x LiPo Battery 7.4VDC 1300mAh
1 x LiPo Battery Balancer Charger
2 x Wire Spiral Wrap (6″ length)
You care about energy consumption with electronics. This is why EZ-Robot designed an innovative low energy digital switching power supply for our products. While most electronics dissipate heat to lower voltage, our products use an energy efficient power supply which generates practically no heat! Welcome to the future.
NOTE: Product lead time 1-2 weeks.