Description
Meet Your New EVO Additive Manufacturing Center
The EVOlution of desktop manufacturing has arrived. EVO, Airwolf 3D's fifth generation machine, features cutting-edge technology and advanced user-centered design that sets it apart from past machines and elevates it to a new class of industrial equipment: the desktop Additive Manufacturing Center, or "AMC."
Loaded with industry-first features and designed to provide a seamless user experience, the EVO AMC empowers professionals to manufacture large, functional prototypes and production parts at faster speeds and higher resolution than any other desktop system on the planet.
EVO AT A GLANCE

Oversized Build Environment
Manufacture full-size, end-use parts within the EVO's huge build volume in over 40 different materials. Optimized for production, the 12 x 12 x 11-inch enclosed build volume is configured for producing large, strong parts.

TRI-HEAT™ TECHNOLOGY
Manufacture the highest quality parts possible on a desktop additive manufacturing system, thanks to proprietary Tri-Heat™ technology that warms the chamber and dries the filament within.

AUTO-LEVELING & CALIBRATION
Enjoy Airwolf 3D's proprietary auto-leveling technology along with AutoPrime, and Sweep. Ultra-durable Extended-Life nozzles save time and money while providing higher precision, speed and efficiency.

AIR CLEANSING SYSTEM
EVO features an oversized air purifying system for active containment of UFP and VOC emissions, providing an extra layer of protection and peace of mind when manufacturing in schools or smaller spaces.

PARTSAVE™
Avoid part failure due to power outage, an accidentally unplugged machine, or other unexpected interruptions. As soon as power is restored, PartSave™ empowers you to resume production right where it left off.

FAILSAFE™
Whether you run out of filament or experience a jam, FailSafe™ has you covered. Just place the print head where you left off, and FailSafe™ will do the rest, restoring your print and completing the job with time to spare.
PARTSAVE™
For the first time in history, you can start, stop, and resume the 3D manufacturing process at any time, thanks to EVO's industry-first PartSave™ technology. Gone are the days of losing prints due to machine failure, power failure, or accidental shutdown.
Whether you need to pause part production for one minute or one hundred years, PartSave™ ensures the 3D manufacturing process will be ready to continue as soon as you are.
GENESIS MICROCONTROLLER
Both the brain and heart of the EVO Additive Manufacturing Center, Airwolf 3D's proprietary GENESIS Microcontroller drives the leaps and bounds that EVO has made in desktop additive manufacturing technology.
Fully proprietary and engineered from the ground up to support high-performance industrial manufacturing, the GENESIS board is an automotive-grade 32-bit redundant embedded controller that delivers 2-3 times higher speeds, more precision, and greater control at ultra-high temperatures than any other desktop 3D manufacturing system on the market.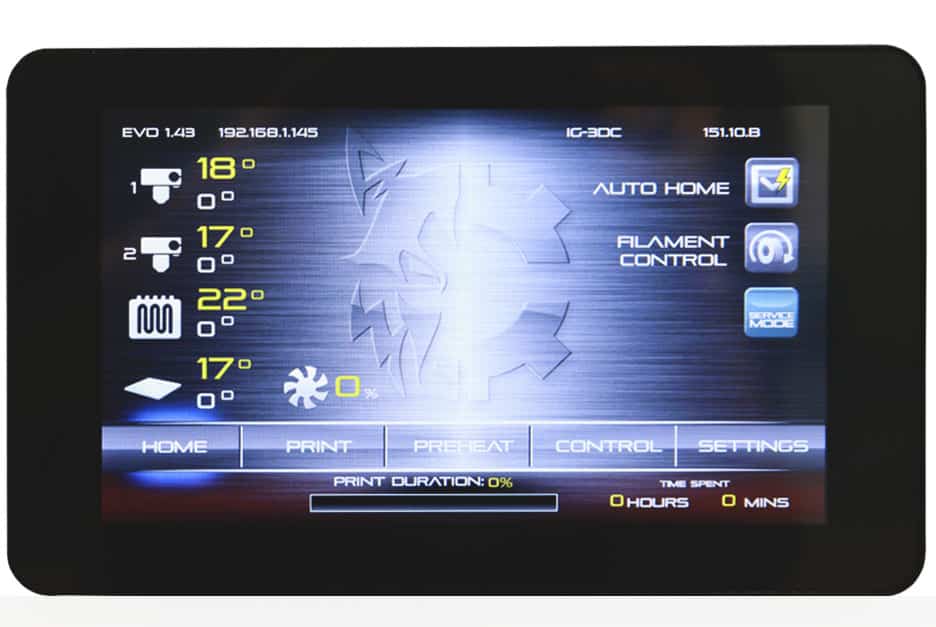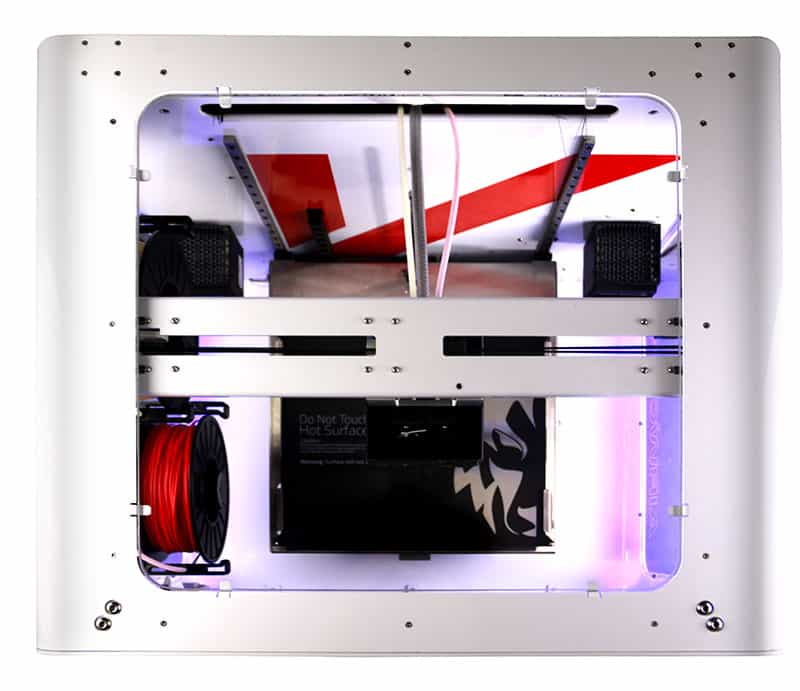 FASTER, MORE PRECISE PART PRODUCTION
EVO's advanced feature set empowers users to build larger, higher quality parts at faster speeds. Located within inches of the extrusion tip, multiplied-force feeders maximize speed and precision of layer deposition while dual high-flow extrusion heads resist jams and clogs. To fully support the manufacturing of oversized parts, the fully enclosed chamber is outfitted with Tri-Heat™ technology and an Integrated Filament Drying System to ensure superior heat and material management.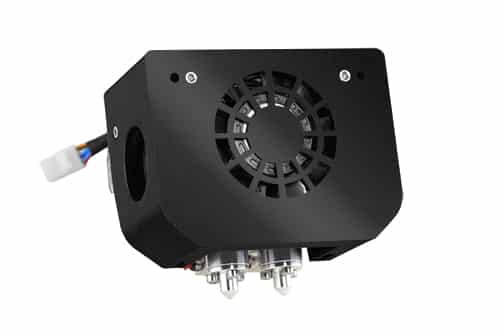 BALL SCREW Z STAGE
The EVO's bulletproof z stage comprises a proprietary coupling linking a ball screw with a stepper motor and is powerful enough to support up to 50 pounds and provides precision of nearly one thousandth of an inch over its 11-inch build height, providing incredible accuracy.
Approximately the size of a human hair, the precision movement is barely discernible by the human eye.
ULTRA-RUGGED, USER-CENTRIC CONSTRUCTION
The strongest machine on the market, the EVO has a 100% aluminum unitized frame constructed in a rigid monocoque to maximize structural integrity while minimizing bulk and weight. The unitized build platform supports up to 50 pounds and also employs one-piece construction to save weight and space in order to maximize strength while minimizing part distortion.
With an oversized 1000-watt power supply, the EVO has power in reserves, easily adapting to ultra-demanding applications in even the harshest environments. An automatic circuit breaker provides a safer, more reliable, and more serviceable system than conventional fuse replacement.
Though rugged and unbreakable, the EVO is light enough to transport easily and can be stacked up to four units high for multiplied part production.
OVER 40 MATERIALS, INCLUDING METAL
Manufacture in over 40 materials ranging from PLA and ABS to exotic materials like metal, carbon fiber-reinforced nylon, polycarbonate, and HydroFill Water-Soluble Support. Produce larger, more complex parts than ever before, thanks to the carefully controlled thermal environment offered by EVO's Tri-Heat™ Enclosed Build Chamber and Integrated Filament Drying System.
SAFETY FEATURES
HARDWARE
Main Power: 15-amp AC circuit breaker
GENESIS Microcontroller: (2) 5-amp and (1) 15-amp fuses to cover mosfets, heaters, stepper motors, and logic
Heated Bed:
• External relay with 25-amp fuse
• 180C thermal fuse (EVO V2)
Hot End:
• 20W low power consumption heaters
• Polyamide insulators
Power Supply: Short circuit/overload/over voltage/over temperature
SOFTWARE
GENESIS Microcontroller
Hot End: Automatic shut-off on overtemp/overcurrent
Heat Bed: Automatic shut-off on overtemp/overcurrent
Chamber Heater: Automatic shut-off on overtemp/overcurrent
Stepper Motors: Automatic shut-off on overcurrent
Fans: Automatic shut-off on overcurrent
Lights: Automatic shut-off on overcurrent
Touchscreen
Hot End: Automatic cool down after non-use
Heated Bed: Automatic cool down after non-use
Chamber Heater: Automatic cool down after non-use
WHAT COMES WITH YOUR EVO ADDITIVE MANUFACTURING CENTER?
(1) Extra 0.50 Extended-Life Nozzle
(1) Double-Sided Flex-Resistant Glass
(1) 2oz Bottle of Wolfbite Premium Adhesive Solution
(1) 2-Pound Spool of ABS Filament (2.85mm)
(1) USB Drive
(1) Nozzle-Cleaning Tool
(1) Subscription to APEX Pro 2018
One-Year Parts and Labor Warranty
Six-Month Unlimited Technical Support
***PLEASE NOTE PRODUCT LEAD TIME IS 14 DAYS!