Description
DOBOT MOOZ Industrial Grade 3D Printer Description
DOBOT MOOZ, the industrial grade transformable metallic 3D printer, which takes all-in-one design with interchangeable heads for 3D printing, laser engraving and CNC carving. The industrial grade linear guideway, stepper motor and CNC-machined body keeps MOOZ stable and 0.02mm high precision. Quick assembly, protective case, easy-to-use controller, and intuitive guide make MOOZ suitable for beginners, makers and educators. DOBOT MOOZ has won the iF DESIGN AWARD 2018 for the innovative design and multiple functions. Creating your vivid life with MOOZ from now! Check the review from Engineering.com here
MULTI-FUNCTION MODULAR 3D PRINTER
DOBOT MOOZ Won the Red Dot Award and iF Design Award, two of the most important design prizes in the world.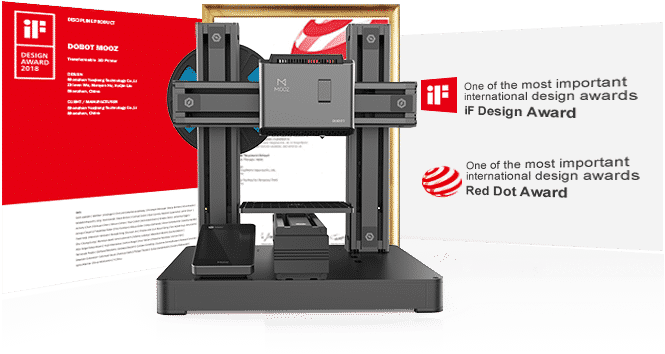 ABUNDANT INDUSTRIAL EXPERIENCES WITH GUARANTEED QUALITY
Shenzhen Yuejiang Technology Co., Ltd.(DOBOT) is the world's leading technological solution provider for the robotics industry, focusing on the development of all-perceptive intelligent robotic arms that integrate perception and interaction. DOBOT was namedone of the world's 80 most valuable robot companies by CB Insights; ranked among the Hurun Top 100 Most Valuable New Star Enterprises in China, and the top 80 of artificial intelligence companies in 2018. DOBOT has rich experience in intelligent hardware industry, and owns more than 260 intellectual property rights in the field of robotics. With its products selling to over 100 countries and regions, DOBOT has also carried out cooperative projects with Volkswagen, Tencent Cloud and Alibaba in smart factories, robots and artificial intelligence, respectively.
A MODULAR 3D PRINTER THAT MAKES THE EUROPEAN AND AMERICAN MAKERS CRAZY
DOBOT MOOZ made its debut on the world's most popular crowd-funding platform Kickstarter in October 2017. It fundraised over $486,025 within 31 days supported by1000+backers.
After crucially reviewed by makers from Europe and United States, DOBOT MOOZ officially released and shared this international-standard desktop-level modular multi-function 3D printer with makers around the world.
DETAILS DEMONSTRATE HIGH QUALITY
DOBOT MOOZ 3D Printing/CNC Carving/Laser Engraving Artworks.

ONE MOOZ, THREE CAPABILITIES
Simply changing different end tool heads, MOOZ is capable of 3D printing, laser engraving and CNC carving.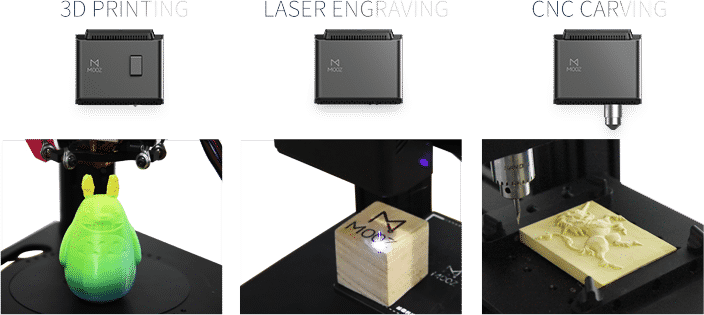 ALUMINUM ALLOY BODY, EXTRAORDINARY SENSE OF TOUCH
MOOZ is cast with aircraft-grade aluminum alloys, which not only adds beauty and elegance to the body, but also increases its stability and reduces vibrations during the working process.
LINEAR GUIDEWAY, MORE ACCURATE REPEATABILITY
MOOZ applies industrial-grade linear guideway, stepper motor and screw rod to make sure the accuracy of every slight move. The position repeatability of MOOZ is up to 0.02mm, satisfying your printing requirements to the fullest.
UNIQUE MODULAR DESIGN, EASY TO OPERATE & MAINTAIN
Thanks to the modular design of MOOZ, it only takes 10 minutes to assemble and start using. Besides saving money, modular design makes operation, maintenance and development much easier.
EASY-TO-USE CONTROLLER, START CREATING BY ONE CLICK
MOOZ is equipped with a microcomputer controller accompanied with a screen display. When MOOZ is connected to a thumb drive or a SD card, you can directly use the controller to operate MOOZ and start printing, sparing you the trouble to connecting a computer.
ALL-AROUND SAFETY MEASURES TO KEEP YOU SAFE
For laser engraving kit, MOOZ provides professional protective shield box and safety glasses to 100% guarantee your security.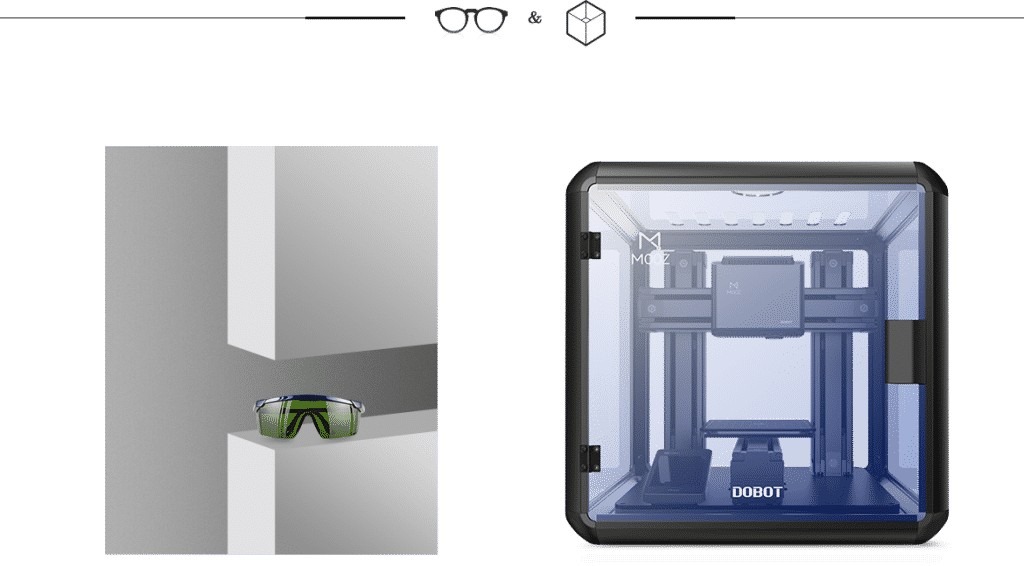 APPLICATIONS
(3D printing is widely used in maker education, DIY design, gift customization, garage kits and more)