Description
DEEBOT 900 Robotic Vacuum Cleaner Description
With our latest third generation navigation technology, the DEEBOT 900 brings intelligent mapping functionality to everyone. With both Amazon Alexa and Google Assistant integration, this robotic vacuum is a powerful addition to your Smart Home. And our app comes with our first-to-market virtual boundaries, scheduling, and focused cleaning.
Knows your home
DEEBOT 900 Knows your home. Once it gets started, the robot will scan and map your home which allows it to orient itself and plan an efficient cleaning path. Therefore, DEEBOT 900 provides you customized options while finishing the cleaning tasks efficiently.
Scans and maps to clean your entire floor
Smart Navi Mapping and Navigation Technology is what allows DEEBOT 900 to scan and map your whole living space and cover all available ground. With the visual map in ECOVACS App, you can draw virtual boundaries, choose cleaning modes and assign cleaning areas, finding the best way to clean.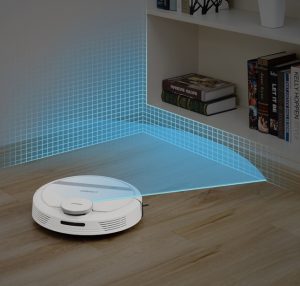 Smart Cleaning Path adapts to your home
As your DEEBOT 900 gets to know its surroundings, it will move in an efficient cleaning path, designed especially for a more thorough and systematic clean.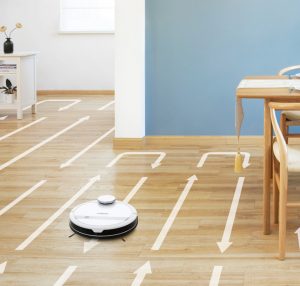 Customizable for your needs
DEEBOT 900 is extremely versatile, with a host of customizable features that can be turned on and adjusted to suit your home, for a more comprehensive clean.
Virtual boundary to block certain areas
With the ECOVACS App and mapping feature, you can create virtual boundaries that restrict the DEEBOT to cleaning a specific area, and preventing it from wandering off into areas you don't want it to go.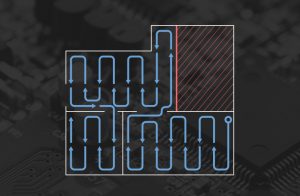 Prioritize areas for cleaning
Using the Area cleaning mode function and map, you can prioritize areas of your home that you want cleaned.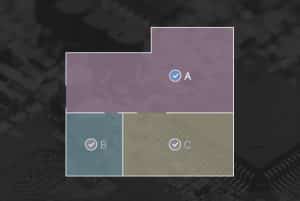 Custom mode for targeted cleaning
With Custom mode, you can draw a rectangular on the map in ECOVACS App, then the robot will clean within the specified area. As a result, the DEEBOT can clean the high-traffic areas systematically until they are totally clean.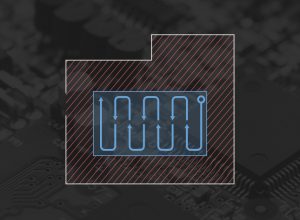 Capable of cleaning a variety of messes
DEEBOT 900 has been designed to clean a variety of messes that might affect your household. You can easily choose the best option for each case and assign your DEEBOT to take care of the mess.
Interchangeable suction inlet for hair-based messes
The suction method can be changed depending on your needs. The direct suction inlet is perfect for hair and animal fur, while the helix design main brush provides a deep-reach clean, especially for carpets.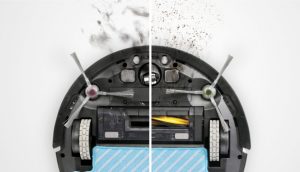 Multi cleaning modes for different messes
Whether dirt, debris, or crumbs, the DEEBOT 900 features multiple cleaning patterns specially suited to tackling each of these, and you can use the right tool for the job with switchable cleaning modes.
More Intelligent, More Independent
The DEEBOT 900 is designed to work autonomously. For example, if the DEEBOT's battery is low, it will go back to the charging station and recharge itself automatically, then return to the area it left off to continue cleaning. It can also be assigned a regular, daily cleaning schedule. This means more time for you to do what you love.
Smart home system compatible
DEEBOT 900 is compatible with both Amazon Echo and Google Home, while being controllable via App as well. You can double your Smart Home credentials by using one of these centralized systems to maintain and direct your DEEBOT.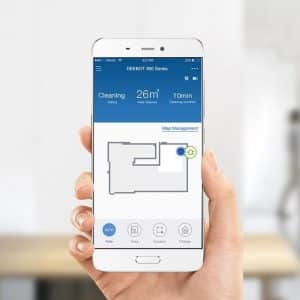 Control DEEBOT, anytime, anywhere
With the ECOVACS App you can control and monitor your robot from anywhere: schedule a clean, monitor its status, start a new cleaning session and designate what the areas you want cleaned, all with one simple, easy-to-use app.
Google Home & Amazon Echo compatible
If you are a Google Home or Amazon Echo user, you can direct your DEEBOT as you would any other connected device. Link your Smart Home system to your DEEBOT using your ECOVACS App, then give directions: tell it when and how to start cleaning, assign areas and schedule cleaning sessions.
Easy to use
Several aspects of the DEEBOT's design make is extra user-friendly and useful. From the quiet operating sound to the automatic software updates, DEEBOT is equipped to fit conveniently into your life.
Quiet cleaning with no annoying noise
Loud vacuum can be particularly annoying, both for you and others. The DEEBOT 900 has a lower level of noise than most other vacuum robots and conventional vacuum cleaners.
OTA Technology keeps your DEEBOT updated
DEEBOT 900 boasts OTA (Over The Air) technology, meaning that as operating system improvements become available, you can choose to update your robot via ECOVACS App and keep the robot always up to date.
Schedule your daily clean
Simply set a regular time and go about your business, and never return to a dirty home again.