Description
AMY Robotics AMY M1 Mobile Assistant Robot
An intelligent robot assistant for both personal and business uses with latest innovations!
The AMY Robotics AMY M1 Mobile Assistant Robot is a professionally intelligent mobile assistant robot. AMY M1 can provide telemedicine solution for hospitals, telecooperation for companies, serve as a guider at shopping mall, museum, hotel, restaurant and various places. Amy M1 also accepts customized service if on-demand. It can move around in a remote location and let one communicate with other people there via its camera, speaker, and microphone. Through this remote-controlled telepresence robot, the user can visit a distant location and explore it as if they were physically present.
You can communicate with AMY smoothly through her powerful AI and language processing. AMY can recognize all family members and knows each one\'s preferences. AMY knows well at indoors positioning, autonomous map building, obstacle avoidance and intelligent recharge. AMY M1 was designed to increase efficiency with its navigation capabilities that enable users to simply select a destination and the robot automatically navigates to the desired location without any human intervention. Amy\'s capabilities can be empowered and extended by the powerful cloud platform.
AMY M1 Features
Connected telepresence robot
Speech Interaction
Face Recognition
Auto navigation
Cloud platform Robot
Movable home theater with projector
Smart home control
Tour and Inspection
Voice commands and information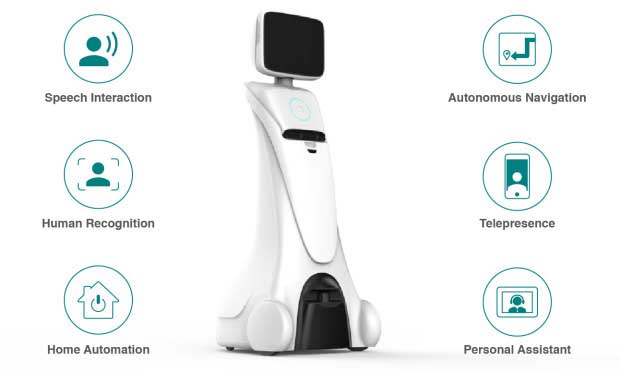 AMY M1 FAQ
Q:Does AMY Robot need Internet?
A:Yes, it needs to connect with WIFI/4G.
Q:How many administrator accounts it has to remotely  control the AMY robot? Is there any maximum number limite??
A:There is no administrator accounts number limites, AMY robot supports multiple user connection. You can download an AMY client APP and register a personal account to controle Amy' move remotely.
Q:How to use AMY Robot?
A:You can find Amy`s user manual once come with AMY Robot package.
Q:Will Amy hit into the furniture or the wall?
A:Amy has self-protection system with obstacle avoidance, she can recognize the obstacles in 500px circle around her body automatically.
Q:How long is the battery life of Amy? And how is she got charged?
A:Her battery can last 10-12 hours with full capacity. She will go to the charger dock and charge herself automatically when the battery is under 10-20% capacity.
Q:How many languages can Amy speak?
A:Amy supports multiple languages. We will keep the official website posted as we add languages.
Q:Can Amy climb stairs?
A:No, she cannot. She can only move on the flat floor currently.
Q:What is the difference between Amy's tele-presence with IMs?
A:Amy`s tele-presence is different to traditional IM communication. Amy can be your physical presence at home or office, you can controle her'move remotely through Appas a friendly speech interaction and alsosupports she supports tele-presence between multiple people anytime, anywhere without interrupting handswork,she provides a better and more real communication experience through friendly speech interaction, face recognition and powerful artificial intelligence.
Q:How to clean Amy robot?
A:You can use soft towel in the package and whipped it softly you are also welcome to Amy's store and cleaninside body of in a stable period.
Q:Does it work with iOS and Android Devices or my computer?
A: AMY is compatible with Android devices,IOS will be available in the near future. She also has a web interface so you can interact via computer.
Q:How does AMY protect my privacy?
A: AMY only collects data it needs, keeps it encrypted, and doesn't transmit any personal data back to our servers. All sensitive data like passwords are encrypted with 256-bit AES encryption to ensure that no one can ever gain access to them. AMY may collect some data anonymously for purposes of improving the product. You will have control of how much data AMY shares with us and can turn off sharing if you like.
Q:When will my AMY ship?
A:We plan to ship AMY on August 2016. You will be the very select few to receive AMY first around November this year.
Q:Which countries do you ship AMY to?
A:We provide worldwide shipping.
Q:Can I give AMY a different name?
A:For now, you have to call her by her name, AMY, to start interaction with her Name customization will be available in the future.
Q:Is AMY under warranty?
A:All product specifications, illustrations, drawings, particulars, dimensions and other information on the Site or made available by us are intended to represent no more than a general illustration of the Product and its features and do not constitute a warranty or representation by us that the Product will conform with the same. We offer 1 year warranty on Amy except for artificial damage.
Q:If I have other questions, who should I contact?
A:We are receiving a lot of inquiries and are responding as fast as possible. Please contact info@solvelight.com with any other questions you may have.
AMY M1 Specifications