Description
SHINING3D EinScan-S 3D Scanner
The SHINING3D EinScan-S is a desktop 3D scanner that delivers printable 3D model with comparatively high accuracy for a range of creative 3D printing applications. EinScan-S bring the industrial grade 3D scanning technology to everyone who wants to design high quality 3D models.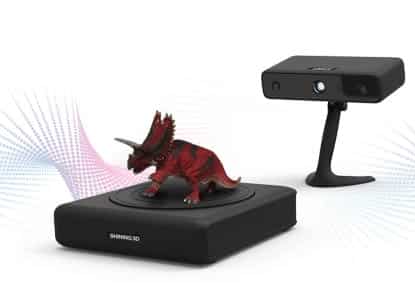 Features
High Accuracy: EinScan-S 3D scanner utilizes white light 3D scanning technology, features in low noise,superior characteristics.
Color Texture Scan: EinScan-S can capture geometric shape, color and texture information , which can be applied in computer graphics and animation, games, digital achieving, prototyping and color 3D printing, etc.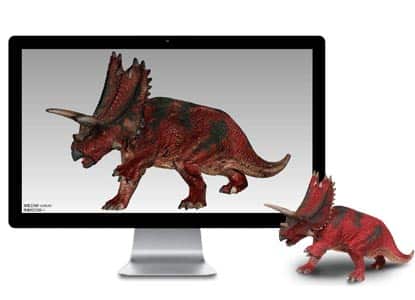 Two Scan Options: Equipped with automatic scan and free scan mode, EinScan-S is capable of scanning for objects small and large. Two scan modes can switch from each other freely.
From Small to Large: EinScan-S is capable of scanning for objects small and large.The maximum scanning size is 200*200*200mm under automatic scan mode;700 mm *700 mm *700mm under free scan mode.
Faster than Ever: Automatic scan takes less than 3 minutes to complete one circle, three times faster than similar desktop 3D scanner in the market with the turntable scans.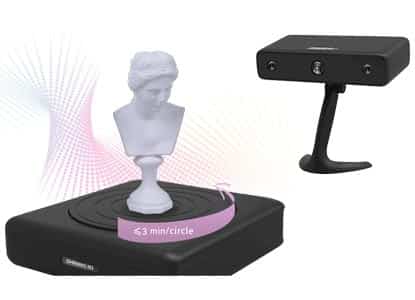 Simple to Use: EinScan-S 3D scanner allows anyone to scan. All you have to do is "click"and the scan process will be done automatically to turn objects into 3D models on computer. International standard file format s, stl, obj, it can applied in many 3D applications.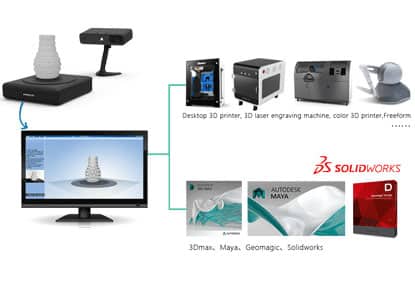 Ready to Print: All the digital models scanned by EinScan are ready to be printed in 3D printer without any editing work.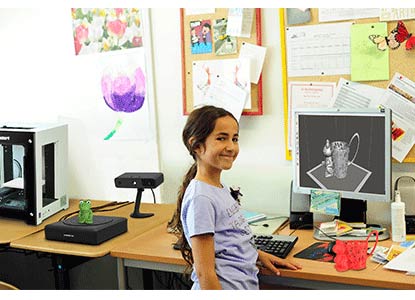 Eye safety lighting: White light source,safer compared to laser scanning, harmless to eyes.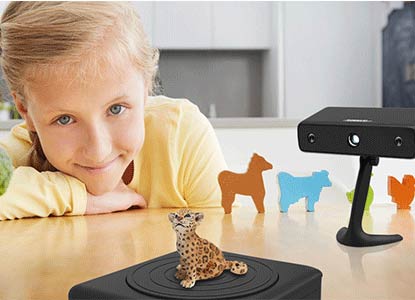 3D Scanner for Educators
Shining 3D offers solutions to professional lab in educational field
United lab
Engineer training center
Industrial design platform
Training center for teacher
Reference of Zhejiang university -Shining3D joint laboratory
Equipment configuration: 3D scanner 3D data processing software fabrication equipment for 3D digitizing To promote the 3D digitizing industry from the industry application to the comprehensive industries, such as the vocational education, technical training, industrial manufacturing applications, and expand the application research regarding the 3D digital design, manufacture, inspection and contribute for the national key construction projects, Shining 3D and the Zhejiang university(the top university in China)official signed the "Combined Constructing Agreement for 3D Manufacturing/Rapid Prototyping Laboratory" on 12nd June 2010.
NOTE: Product lead time 7-10 days.