Description
Roboteq Brushed DC Motor Controller HDC2472 Dual Channel/120A/72V
The Roboteq Brushed DC Motor Controller HDC2472 is designed to convert commands received from a RC radio, Analog Joystick, wireless modem, PC (via RS232 or USB) or microcomputer into high voltage and high current output for driving one or two DC motors. Designed for maximal ease-of-use, it is delivered with all necessary hardware and is ready to use in minutes. The controller features a high-performance 32-bit microcomputer and quadrature encoder inputs to perform advanced motion control algorithms in Open Loop or Close Loop (Speed or Position) modes. The HDC24xx features a high number of Analog, Pulse and Digital I/Os which can be remapped as command or feedback inputs, limit switches, or many other functions. The controller\'s two motor channels can either be operated independently or mixed to set the direction and rotation of a vehicle by coordinating the motion of each motor.
Numerous safety features are incorporated into the controller to ensure reliable and safe operation. The controller\'s operation can be extensively automated and customized using Basic Language scripts. The controller can be reprogrammed in the field with the latest features by downloading new operating software from Roboteq.
Features List
USB, RS232, 0-5V Analog, or Pulse (RC radio) command modes
Available in version with CAN bus up to 1Mbit/s
Auto switch between USB, RS232, CAN, Analog, or Pulse based on user-defined priority
Built-in high-power power drivers for two brushed DC motors at up to 150A output per channel
Full forward & reverse control on each channel. Four quad- rant operation. Supports regeneration
Built-in programming language for automation and custom- ization
Operates from a single power source
Programmable current limit for each channel up to 2x150A for protecting controller, motors, wiring and battery.
Up to 11 Analog Inputs for use as command and/or feed- back
Up to 6 Pulse Length, Duty Cycle or Frequency Inputs for use as command and/or feedback
Up to 21 Digital Inputs for use as Deadman Switch, Limit Switch, Emergency stop or user inputs
Dual Quadrature Encoder inputs with 32-bit counters • 8 general purpose 24V, 1A output for brake release or accessories
Custom scripting in Basic language. Execution speed 50,000 lines per second
Selectable min, max, center and deadband in Pulse and Analog modes
Selectable exponentiation factors for each command inputs
Trigger action if Analog, Pulse or Encoder capture are out- side user selectable range (soft limit switches)
Open loop or closed loop speed control operation
Closed loop position control with analog or pulse/fre- quency feedback
Precise speed and position control when Encoder feed- back is used
PID control loop with separate gains for each channel
Multi-range PID gains changing on-the-fly according to motor speed
Optional Mixed control (sum and difference) for tank-like steering
Configurable Data Logging of operating parameters on RS232 Output for telemetry or analysis
Built-in Battery Voltage and Temperature sensors
Optional 12V backup power input for powering safely the controller if the main motor batteries are discharged
Power Control wire for turning On or Off the controller from external microcomputer or switch
No consumption by output stage when motors stopped
Regulated 5V output for powering Encoders, RC radio, RF Modem or microcomputer
Separate Programmable acceleration and deceleration for each motor
Separate Programmable maximum forward and reverse power
Support for CANopen and two simplified CAN protocols
Ultra-efficient 1.5 mOhm ON resistance MOSFETs
Orderable as single channel version up to 300A
Stall detection and selectable triggered action if Amps is outside user-selected range
Short circuit protection with selectable sensitivity levels
Overvoltage and Undervoltage protection
Programmable Watchdog for automatic motor shutdown in case of command loss
Overtemperature protection
Diagnostic LED
Extruded aluminum, heat sinking enclosure for operation harsh shock and temperature environment
Efficient heat sinking. Operates without a fan in most applications.
Dustproof and weather resistant. IP51 NEMA rating • Power wiring via heavy AWG8 cables
9" (228.5mm) L, 5.5" W (140mm), 1.6" (40mm) H
-40o to 85o C operating environment
3 lbs (1,350g)
Easy configuration, tuning and monitory using provided PC utility
Field upgradeable software for installing latest features via the internet
Applications
Industrial Automation
Tracking, Pan & Tilt systems
Terrestrial and Underwater Robotic Vehicles • Automatic Guided Vehicles
Police and Military Robots
Flight simulators
Telepresence Systems
Animatronics
Specifications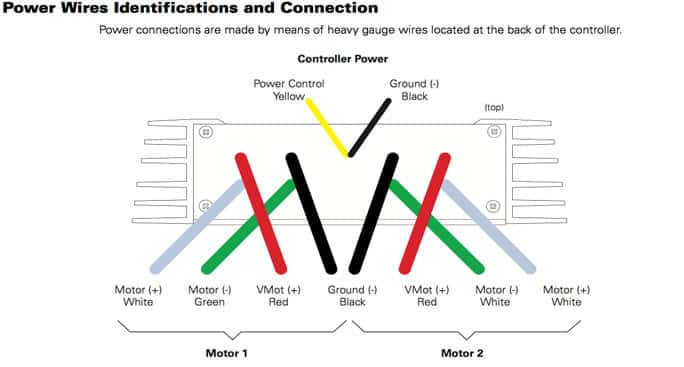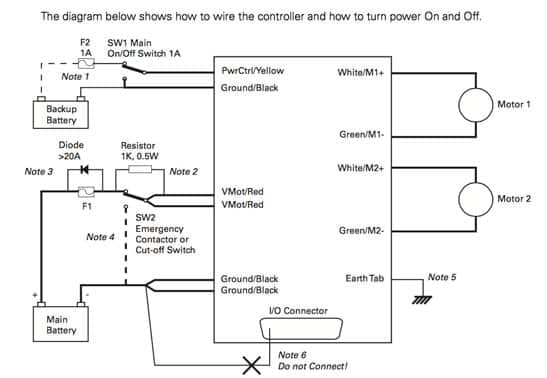 Power
Motor Type: Brushed DC
Max Voltage: 72
Number of Channels: 2
Direction: Forward/Reverse
Max Amps per Channel: 120
Continuous Amps per Channel: 80
ON Resistance(mOhm): 3
Power Connections: Wires
Commands and Feedback
Analog: Yes
RS232: Yes
USB: Yes
CANbus: Yes
RC Pulse: Yes
MicroBasic Scripting: Yes
Control Loop(ms): 1
Regenerative braking: Yes
I/O
Max Analog Inputs: 11
Max Digital Inputs: 19
Digital Outputs: 8
Max Pulse Inputs: 4
Encoder: Yes
Mechanical
Cooling: Heatsink Extrusion
Dimensions: 228mm x 140mm x 40mm
Weight: 1500g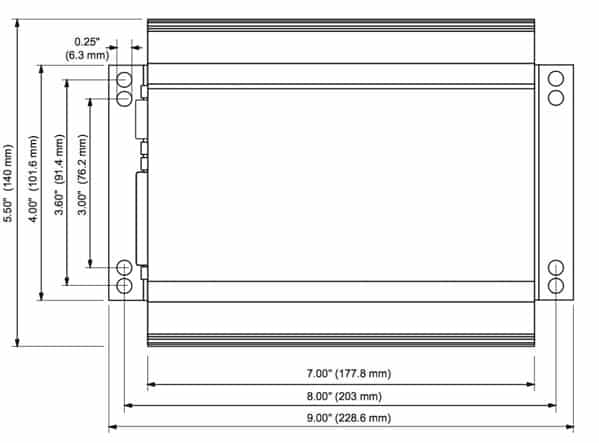 NOTE: Product lead time 1-2 Weeks(contact us for more information).