Description
MakerBot Replicator 2X Dual Extruder 3D Printer
The MakerBot Replicator 2X Dual Extruder 3D Printer helps to explore everything possible in desktop 3D Printing today, and makes sure you\'re future-proof for developments justover the horizon. MakerBot Replicator 2X Dual Extruder 3D Printer provides; new standard in desktop 3D printing, completely re-engineered dual extruders, layer resolution capable of up to 100 microns, super flat heated build plate optimized for ABS filament, six-sided enclosure for stabilized ABS cooling. Replicator 2X Dual Extruder 3D Printer made for 3D printing experts who want to explore the frontiers of 3D printing, the MakerBot Replicator 2X Experimental 3D Printer is a full-featured desktop 3D printer with experimental dual extrusion that is optimized for printing with MakerBot ABS Filament. Create professional-quality, high-resolution prototypes and complex models. The superflat heated aluminum build plate is optimized for ABS and machined for crucial flatness to prevent warping or sagging that can affect build quality. Be ready for cutting-edge developments in ABS filament technology and multi-material 3D printing. Experiment with overhangs and internal structures using MakerBot® Dissolvable Filament as solid infill material.
Features
EXPLORE THE FRONTIER OF 3D PRINTING with an advanced desktop 3D printer and dual extrusion. Quickly iterate to verify your designs and catch flaws sooner. Use your own physical models for collaboration and to bring better products to market, faster. Save money with the best price/performance in desktop 3D printing.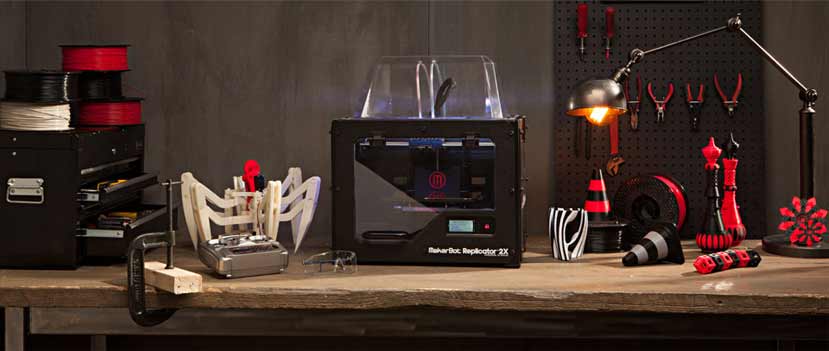 RELY ON SOPHISTICATED SOFTWARE, get fast and consistent results. MakerBot Desktop is optimized for the best quality printing experience on your MakerBot Replicator 2X. It\'s powered by our advanced slicing engine, the algorithm that tells your MakerBot Replicator 2X what to make and how to make it.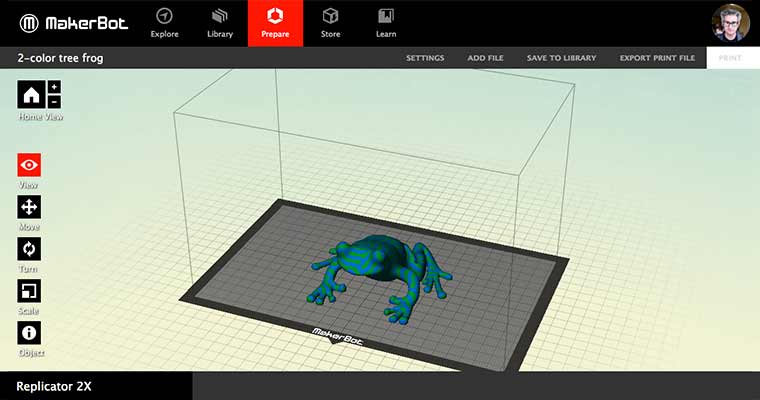 Super flat heated build plate optimized for ABS
1. Get prints that stick: high-tolerance aluminum build plate ismachined for crucial flatness to prevent warping or sagging that canaffect print quality.
2. Build plate is anodized for longevity and durability.Surface tape comes cut-to-size for smooth, hassle-free application.
3. Better temperature control keeps build plate heated precisely and evenly throughout.
4. Now in sleek MakerBot black.
Newlyre-engineered easy-load extruder
1. New easy-load filament lever makes loading filament as easy as flipping a light switch.
2. Re-designed filament feeding system dramatically reduces stripping, skipping, and jamming.
3. Constant force filament feeding system has no parts to wear out or need adjustment.
4. New thermal core design stabilizes internal temperature for more reliable prints.
5. Less maintenance and more print time.
Dual extrusion 3D printing
1. Be ready for cutting-edge developments in filament and multi-material printing.
2. Add a new level of creativity to your 3D design with interlaced colors.
3. Precisely aligned dual nozzles give perfect prints in one or two colors.
4. Updates in MakerWare make it easier to generate dual extrusion prints.
5. Firmware improvements reduce filament reversal, retraction, and over-run, meaning more definition between colors.
Sided enclosure for stabilized ABS cooling
1. Enclosed sides block drafts and stabilize the ABS cooling period for less cracking and peeling.
2. Magnetic lid snaps on and off for easy access.
3. Clear-view top and sides let you monitor your progress.Friction hinge door stays where you put it for easy print retrieval
4. Magnetic latches keep small hands safe from hot components, at home and at school.
Specifications
1. Ambient Operation Temperature: 15º – 32º C [60º – 90º F]
2. Storage Temperature: 0º – 32º C [32º – 90º F]
1. AC Input: 100 – 240V,  – 2 amps,50 – 60 Hz
2. Power Requirements: 24V DC @ 6.25 amps
3. Connectivity: USB, SDcard [included]
1. Chassis: Powder coated steel
2. Body: PVC Panels
3. Build Platform: Heated, black anodized 356F Aluminum
4. XYZ Bearings: Wear-resistant, oil-infused bronze
5. Stepper Motors: 1.8º step angle with 1/16 micro-stepping
1. Print Technology: Fused Filament Fabrication
2. Build Volume: 9.7 L x 6.0 W x 6.1 H in [24.6 x 15.2 x 15.5 cm]
3. Layer Resolution Settings
– Fine: 100 microns [0.0039 in]
– Medium: 270 microns [0.0106 in]
– Fast: 340 microns [0.0133 in]
4. Positioning Precision
– XY: 11 microns [0.0004 in]
– Z: 2.5 microns [0.000098 in]
5. Filament Diameter: 1.75 mm [0.069 in]
6. Nozzle Diameter: 0.4 mm [0.015 in]
1. Software Bundle: MakerWareT Bundle 2.0
2. File Types: .stl, .obj, .thing
3. Supported OSs: Windows (XP/7), Ubuntu Linux (10.10 ), Mac OS X (10.6 )
Dimensions
Without Spool: 19.1 x 12.8 x 20.9 in  or (49 x 32 x 53.1 cm)
With Spool: 19.1 x 16.5 x 20.9 in or (49 x 42 x 53.1 cm)
Shipping Box: 23 x 23.8 x 16.4 in or (58.4 x 60.5 x 41.7 cm)
Weight: 27.8 lbs or (12.6 kg)
Shipping Weight: 40.0 lbs or (18.1 kg)
NOTE: 6 month warranty effective for all 4th and 5th Generation printers received by customers on or after January 1st, 2014. Please carefully read Makerbot warranty policy.
---