Description
DOBOT AI(Artificial Intelligence)-Starter Kit
Born for artificial intelligence learning, AI-Starter is an entry-level educational robot platform and an integrated robot learning suite integrating mechanism, electronic and programming. AI-Starter is compatible with Arduino motherboard. It has rich sensor modules, which can realize interesting functions such as patrol line and obstacle avoidance. It combines teaching and fun, which can enhance children's interest in learning robots.AI-Starter supports graphical programming. Children can easily get access to programming knowledge through simple drag and drop, thus to develop their logical thinking ability and train them to become the front runners in the era of artificial intelligence. Start your artificial intelligence learning with AI-Starter.
GRAPHICAL PROGRAMMING MAKES TEACHING MORE FUNNY
With Arduino-compatible graphic programming software, children can learn programming knowledge intuitively and cultivate logical thinking ability easily.
SMART AUTOPILOT
AI-Starter builds in kinds of sensors including infrared patrol line, ultrasonic wave, color, photosensitive and geomagnetic sensors, which can simulate automatic driving to realize the functions of tracking and avoiding obstacles without control, so as to experience the charm of autopilot.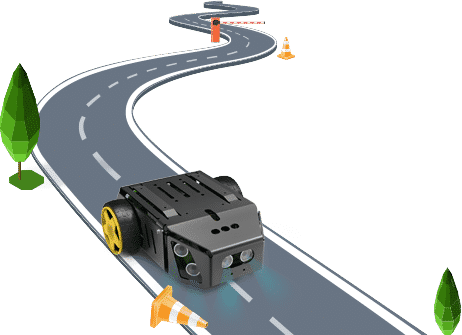 AI TEACHING COURSES WITH FULL OF FUN
Teaching materials and online courses about robot programming are provided. Students can follow the tutorials to assemble robot, build circuit and write program step by step.
VARIOUS EXTENDED INTERFACE WITH DIVERSE USES
AI-Starter provides XBEE, bluetooth, universal IO, serial port, I2C and other extended interfaces, which allow children to open their imagination and unlock more ways to use.

ONE-STEP USB SOCKET
With a large capacity of 18650, the battery can be charged by simply connecting to a universal USB charger directly, which makes the battery more durable.