Description
Sharebot Q Professional 3D Printer with Large Build Volume
Sharebot Q is a professional 3D Printer with large build volume (297x420x300mm) for professional and commercial use. Sharebot Q uses FFF (Fused Filament Fabrication) technology to create professional prototypes with high quality and precision. Sharebot Q was created for wide range of professionals who are looking for a tool that can optimize their work flow and improve their user experience: printing processes control and management can be done directly throught the web interface (compatible with every device), and allows the user to manage multiple processes at the same time. Sharebot Q makes your professional 3D printing process more intuitive.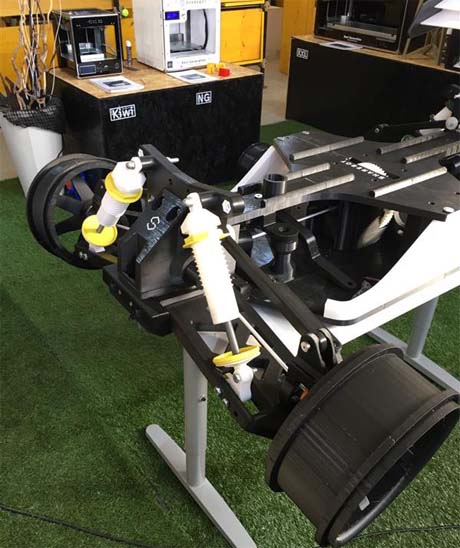 Sharebot Q Features
Automatic axis and build plate calibration system
New extruder with interchangeable nozzle with different sizes
Remote management with web interface compatible with every device
Possibility to print directly from web and usb
Integrated video camera
Filament presence and flow detector
Removable magnetic printing plate integrated reel-carrier
Sharebot Q Connectivity
The printer allows the user to manage all the aspects of the printing process from the user's remote device (computer, smartphone or tablet), optimizing the professional workflow; Q also allows to manage different operations at the same time from the same platform (even on different 3D printers) with just a click. Moreover The web interface gives the option to monitor the printing process thanks to the integrated webcam.
Materials
Sharebot Q has an integrated spool-case system compatible with 750g spools and the special 2.2kg PLA-S filament, used by professionals. The printer has also a big useful case under the magnetic printing plate with another spool case integrated: the box can be used to store materials and tools useful for the printing process.
Sharebot Q Exstrusion Process
The printing process with Sharebot Q is easier thanks to a filament double dragging system with engines both on the extruder and next to the spool (bowden system) improving the extrusion. The professional user experience is also optimized by the filament sensor which control the operation, avoiding any failure in case of problem.
Sharebot Q Use
Mechanics
Architecture
Design
Rapid manufacturing